The Praetorium is the final dungeon in the main scenario storyline of Final Fantasy XIV.
By clearing this dungeon, the player will obtain 150 Allagan Tomestones of Poetics. The cutscenes in this duty were made unskippable in patch 4.2.
While this dungeon originally was ran with a group of 8 players, it was reworked in patch 6.1 and included downscaling to 4 players in addition to being made compatible with the Duty Support system.
Story
[
]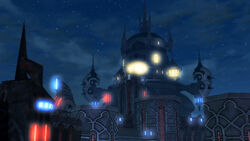 With the magitek field now out of commission, the path to the Ultima Weapon lies open. While the Immortal Flames sweep Castrum Meridianum and suppress the remnants of the enemy garrison, you and your comrades must fight your way to the innermost sector of the Praetorium, there to locate and destroy the Ultima Weapon. Cid's airship, the Enterprise, will bear you to the stage of the final confrontation.
Progression
[
]
Command Chamber
[
]
Laboritorium Primum
[
]
The Echelon
[
]
Enemies
[
]
Bosses
[
]
Musical themes
[
]
"Penitus" plays throughout the dungeon. It uses "The Maker's Ruin"'s leitmotif, contains a Latin chorus, and was composed by Masayoshi Soken and arranged by Nobuko Toda and Yoshitaka Suzuki.
The theme played while fighting van Baelsar is called "Bite of the Black Wolf," composed by Soken. It is an instrumental version of Rise of the White Raven.
Other appearances
[
]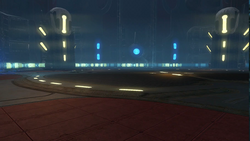 Porta Decumana appears as a stage, and is the first stage representing Final Fantasy XIV.
As with other stages, it features a stage transition. In the beginning of battle, the stage will elevate upwards until it reaches the top, wherein flames and destruction will engulf the stage, referencing Lahabrea's use of the Weapon.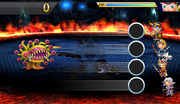 The Praetorium appears as the Battle Music Sequence for "Ultima".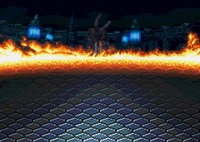 Behind the Scenes
[
]
The Praetorium and Castrum Meridianum are notorious among fans for being laughable easy dungeons made long due to the numerous unskippable cutscenes. Because the dungeons are tuned for the minimum item level of 42, but only synced to level 50 (effective item level 130), most mechanics are skipped and it is speed-ran as fast as possible.
As part of updates to the original A Realm Reborn Main Scenario in patch 6.1, this dungeon is slated for modifications and adjustments that will see it converted to a 4-player instance with compatibility for the Duty Support System, as well as the separation of the battles against the Ultima Weapon and Lahabrea as their own instances, a 4-man trial and solo quest battle respectively. The original dungeon will be completed after the battle with Gaius in the Echelon.
Gallery
[
]
Etymology
[
]
The Latin term praetorium originally signified a general's tent within a Roman castra, castellum, or encampment.