The Forbidden Land, Eureka Pagos is an Adventuring Foray and the second addition to the Forbidden Land Eureka. The completion of the Eureka Anemos story is needed to continue in this instance. Set in an icy wasteland the expedition on the Isle of Val continues.
Story
[
]
With Krile completing her work on the aethernet relay the expedition discovers another region with ice-aspected aether dubbing the area: 'Pagos'. It was discovered that the local aetherial currents were weaker compared to Anemos, and a confluence of aether similar to those discovered in Anemos was detected. Krile has the Warrior of Light search for this disturbance, and they found a magicite bereft of aether. While the flow of the lifestream remained poor following the recovery of the magicite there was apparently a measured improvement, and it was decided that they would continue to investigate confluences.
Sent on a mission to pick up a third magicite, the Warrior of Light discovers a sharp decrease in aetherial density with the magicite being drained of its aether in that very moment. The Warrior of Light has another vision of Galuf Baldesion and his companions, discussing the fate of the entity they imprisoned. Krile theorizes that the masked man is searching for magicite to drain for reasons unknown.
Ejika Tsunjika suggests that the expedition seek out a proto-aetheryte to gain greater insight on the current state of aetherial currents. Unable to teleport to the proto-aetheryte, it was discovered that a massive concentration of aether was responsible for the difficulties. The Warrior of Light goes out to discover that it was a massive aether geyser, with nothing left to report Krile begins her work and until she is finished, the expedition is put on hold.
Off on his own Ejika looks into the distance to see the headquarters of the Students of Baldesion, behind him the masked man appears and asks them if they seek power. Ejika questions who or what they are and the masked man proclaims that he is Eureka.
Weather
[
]
Eureka Pagos' climate may exhibit any of the following weather conditions:
Gameplay
[
]
Happy Bunnies
[
]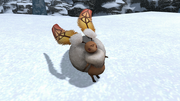 During the FATEs
Down the Rabbit Hole or
Curiouser and Curiouser, players can save happy bunnies from attacking monsters. Any surviving bunnies will each follow individual players around the area for a limited time. During this period players can feed lucky carrots to the bunnies, which will prompt them to hint at the location of a hidden treasure, or reveal the treasure if they are close enough. The bunnies will vanish if they or the player they are following are defeated, or if the player leaves Pagos or logs out.
The Eureka Effect
[
]
Certain gear found in Eureka Pagos will have the Eureka Effect, which grants the gear special attributes not found in regular gear. Eureka Effects are only active within Eureka areas.
Activities
[
]
FATEs
[
]
Name
Elemental Level
Location
Time limit
Objective
Description
Spawn conditions (if any)

Eternity

20-23
Frozen Lake (x21 y26)
30 minutes
Defeat the Snow Queen.
Long thought a convenient fiction dreamt up by the negligent parents of missing children, the Snow Queen has at last deigned to descend from her icebound throne─to visit punishment upon those who have dared stain her immaculate land with roseblooms of blood.

Spawn conditions:


Down the Rabbit Hole

20-23
Frozen Lake (x18 y27)
30 minutes
Defeat Voretooth and the yukidama.
A group of capricious happy bunnies fancying a portable refuge from the frequent snows of Pagos have found their plot to filch several straw hats foiled, and themselves outnumbered. They would surely feel indebted to whoever keeps them from becoming dinner for the yukidama and their not-so-fun-loving guardian, Voretooth.

Cairn Blight 451

21-24
The Val River Belly (x26 y27)
30 minutes
Defeat Taxim.
A voracious collector of eldritch tomes in life, Taxim appears loath to let his current less-than-fresh state impede him in continuing to wrest ancient and forbidden manuscripts from their hiding places, no matter the consequences.

Spawn conditions:


Defeat demons of the incunable, which only appear at night.

Ash the Magic Dragon

22-25
The Val River Belly (x30 y29)
30 minutes
Defeat the Ash Dragon.
Ever discontent to frolic in the autumn mist like other, less sinister scalekin, the Ash Dragon would smother the world in pursuit of ambition if given the opportunity. Indeed, with his voidsent army's ranks depleted, he already seeks new hosts for his cohort of conquerors.

Spawn conditions:


Conqueror Worm

23-26
The Val River Belly (x32 y27)
30 minutes
Defeat the Glavoid.
Myriad are the horrors spoken of the Glavoid─of its enigmatic origin in the unexplored reaches far beneath, and how the very land crumbles around it. Also, it's a giant worm. Best drive it away before it steals the sanity from passing researchers, or just disgusts them profoundly.

Spawn conditions:


Melting Point

24-27
The Val River Belly (x33 y21)
30 minutes
Defeat Anapos.
"When snow melts, what does it become?" The optimistic might answer "spring," the cynical, "water." Sojourners to Pagos, however, will inform you that it becomes Anapos, a fearsome sprite with as little mercy as the elements themselves.

Spawn conditions:


Defeat snowmelt sprites, which only appear during Fog.

The Wobbler in Darkness

25-28
The Val River Belly (x29 y22)
30 minutes
Defeat the Hakutaku.
It is said that she who overcomes the Hakutaku with the beast's eye cluster in hand shall be rewarded with gold and glory─not to mention nights free of worry that an amorphous mass filled with an ever-increasing number of eyeballs is roaming the land, undulating ever nearer her bedside.

Spawn conditions:


Does It Have to Be a Snowman

26-29
Brushtip Gap (x17 y16)
30 minutes
Defeat King Igloo.
A rolling stone may gather no moss, but it does gather snow and, occasionally, a form of sentience that allows for lasting grudges against those who have mistreated it. It would be highly unfortunate if several such stones were to meld together and rampage across the land in the name of vengeance. Highly unfortunate.

Spawn conditions:


Disorder in the Court

27-30
Hot Water (x10 y11)
30 minutes
Defeat Asag.
Given that his claim to fame is having a visage so grotesque as to boil rivers─and their inhabitants─by mere proximity, it is hard to believe that any would worship Asag, let alone call on him in their time of need. But some do, and they have, so here he is.

Spawn conditions:


Cows for Concern

28-31
Hot Water (x9 y19)
30 minutes
Defeat Surabhi.
Years in the wilderness have served only to intensify Surabhi's resentment of the treatment her herd endured in a livestock pen. Well, that and sharpen her feral instincts enough to make her a veritable killing machine.

Spawn conditions:


Morte Arthro

29-32
Hot Water (x8 y15)
30 minutes
Defeat King Arthro.
Woe betide an invader in this land of many kings. The latest to heed the call of his beleaguered people is the noble King Arthro, leader of knights round...and clawed.

Spawn conditions:


Defeat Val snippers.
Only appears during Fog.

Brothers

30-33
The Bull's Pen (x13 y18)
30 minutes
Defeat Eldertaur and Mindertaur.
Any sensible adventurer is prepared for the fearsome eventuality of turning a corner only to come face-to-face with a minotaur. Alas, few consider the possibility of coming face-to-faces with two minotaurs. Beware these bullish brothers' unbreakable bond.

Spawn conditions:


Apocalypse Cow

31-34
Agaric Rock (x26 y17)
30 minutes
Defeat the Holy Cow.
Among the wild bulls of Eureka dwells one with a lion's heart, he that would be the herd's savior from the scourge of man. Expedition researchers, threatened with trampling whenever they leave camp, have dubbed him the Holy Cow and taken to exclaiming said title as if it were a mild profanity.

Spawn conditions:


Curiouser and Curiouser

31-34
Brushtip Gap (x20 y21)
30 minutes
Defeat Gemhorn and the decotitus drudges.
Nothing if not ambitious, the happy bunnies of Pagos aim ever higher─both figuratively and literally─with their mischief. Their attempt to steal crystals from the brows of local decotituses has obviously not gone to plan, and they are in need of rescue lest they be crushed underfoot.

Third Impact

32-35
Agaric Rock (x31 y18)
30 minutes
Defeat Hadhayosh.
Some creatures live unusually long lives by identifying potential predators and avoiding confrontation. Some do so by obliterating all comers with a storm of fire and lightning called from the heavens. Hadhayosh is of the latter sort.

Spawn conditions:


Defeat lesser void dragons.
Only appears during Thunder.

Eye of Horus

33-36
The Moldbeds (x26 y20)
30 minutes
Defeat Horus.
Look to the sky! It's a bird! It's─ No, it's definitely a bird. One with sun-haloed wings and a heart burning with hatred, come to deliver a scorching reprimand unto his subjects' murderers.

Spawn conditions:


Defeat void vouivres.
Only appears during Heat Waves.

Eye Scream for Ice Cream

34-37
Corse Rise (x23 y25)
30 minutes
Defeat Arch Angra Mainyu.
Unsurprisingly, Arch Angra Mainyu misses none of its surroundings─meaning that, upon its summoning, it immediately located the band of mortals responsible for murdering its voidsent brethren and vowed to take an eye for an eye.

Spawn conditions:


Louhi on Ice

35-38
Icebloom Cavern (x36 y18)
30 minutes
Defeat Louhi.
Logic would dictate that killing the undead makes little difference to their overall situation. The voidsent Louhi─and his lethally sharp pair of ice blades─begs to differ.

Spawn conditions:


Defeat Val corpses, which only appear at night.

Cassie and the Copycats

35-38
The Barren Arena (x22 y14)
30 minutes
Defeat Copycat Cassie.
Many a naturalist has questioned how a morbol so rarely exposed to warmth or sunlight could have grown even more enormous and replete with limbs than the Shroud's Capricious Cassie. As none have been willing to approach her so-called copycat to find out, the official answer remains "by being an unholy abomination, probably."

Spawn conditions:


Defeat ameretats.
Only appears during Blizzards.