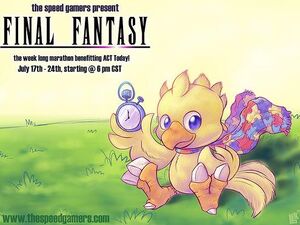 From July 17th to July 24th, 2009, the American charity group TheSpeedGamers held a Final Fantasy marathon in Dallas, Texas, United States, for the purpose of raising money for the Act Today! Autism Care and Treatment foundation. Beginning with the PlayStation version of the original Final Fantasy and playing throughout the first ten installments of the Final Fantasy series, the group gathered more than $50,000 USD on the 168-hour long event.
Originally set to $20,000, the group unexpectedly reached their goal within the first five days of the marathon and subsequently set it to $50,000. More than 2,000 donors collaborated with the effort. A game feed was hosted on their site alongside a commentary feed and a chatroom.
The group was able to complete the first nine games of the series before Friday 24th; Final Fantasy XI was played that day by an honorary participant, "Nobody X", who has a form of Autism, a mental disorder with much social stigma. She began streaming on the Friday morning via an extra feed showing her progress throughout the game.
Executive Director of Act Today!, Nancy Alspaugh-Jackson said, "The accomplishment of the young gamers is so impressive, and is a testament to the power of the younger generation when they put their considerable talents behind a cause".
"Our goal for this marathon was $20,000. I thought there was a good chance we could get there, but I never thought $40,000. But, it all just fell together really well," says Britt LaRivere, founder of TheSpeedGamers.

Community content is available under
CC-BY-SA
unless otherwise noted.