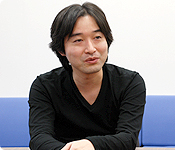 Tetsuya Takahashi (高橋 哲哉, Takahashi Tetsuya?) is a Japanese game director, game designer, and scenario writer who used to work for Square Enix. He left the company in October 1999 and founded Monolith Soft.
Takahashi left Square because the company was planning to focus primarily on the Final Fantasy series, and he personally did not favor the idea.[1] As Namco would allow him to create the kind of game he desired, with their funding Takahashi established Monolith Soft. Including Takahashi, in total 20 people left Square to join the new company.[1]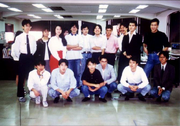 While at Square, Takahashi had a major role on Final Fantasy IV (1991), Final Fantasy V (1992), Final Fantasy VI (1994), and Chrono Trigger (1995). His last game with Square was Xenogears (1998), which he wrote and directed. The scenario for Xenogears was proposed by Takahashi as a story idea for Final Fantasy VII (1997), but it was deemed too dark and complicated for a Final Fantasy game.[2]
Works within the series
[
]
Trivia
[
]
Takahashi married Square Enix co-worker Kaori Tanaka in 1995. When he left the company in October 1999, she left with him.
Tetsuya Takahashi designed the Magitek Armor seen in the intro credits of Final Fantasy VI. Rather than making them look the same as they do elsewhere in the game, he redesigned them to look like mechs. This can be seen as precursor to the mechs that appear in Xenogears, his first game as director.[3]
Tetsuya Nomura considers Tetsuya Takahashi as one of his four "seniors" as he took care of him during the start of his career.[4]
External links
[
]
References
[
]