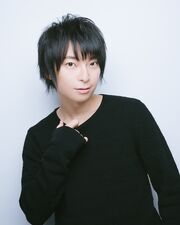 Tetsuya Kakihara (柿原 徹也, Kakihara Tetsuya?), born December 24, 1982 in Düsseldorf, West Germany is a Japanese voice actor. Previously affiliated with 81 Produce, he worked freelance as of June 2013. He set up his own agency, Zynchro, as of July 2014. He voices Prompto Argentum from Final Fantasy XV.
Roles
[
]
Other Square Enix projects
[
]
Fullmetal Alchemist: Brotherhood - Kain Fuery
Biography
[
]
Before wanting to become a voice actor, Kakihara had always longed to live in Japan. He was fascinated by its entertainment culture; he thought Japan had funny TV shows, and he has loved to read manga and watch anime since he was little. So with that in mind, he set off toward his goal to become a voice actor.
In 2001, at the age of 18, Kakihara went to the Amusement Media Academy (a vocational school for voice actors and artists) to study voice acting. At first, it was not a smooth road for him to get in, as the school was surprised he actually came all the way from Germany after receiving a prompt email from him 3 days prior. He sincerely requested the school to accept his application, and when they officially accepted him, he found temporary housing at a friend's house.
Background
[
]
He is best known for his roles as Natsu Dragneel in Fairy Tail series and Simon in Tengen Toppa Gurren Lagann. He also voiced Leonardo in Japanese Dub of Teenage Mutant Ninja Turtles (2003 series).
External links
[
]