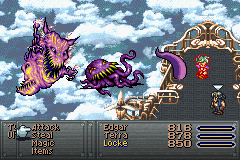 Tentacle (たこあし, Takoashi?, lit. Octopus Tentacle), also known as Octentacle, is a recurring ability in the series. It is oftentimes the ability of Ultros, which deals non-elemental physical damage to the enemy party.
Appearances
[
]
Tentacle is Ultros's special attack, inflicting moderate non-elemental damage to either one or all party members. Its Battle Power is 146, and it is unblockable. It can also be used by Guardian when it goes into Ultros mode. Devourer and Malboro Menace can also use Ultros's powerful Tentacle attack.
Tentacles, used by Tros, inflicts minor non-elemental damage to one party member.
Octentacle is an active physical ability that inflicts neutral physical damage on random targets for 8 AP. It hits 8 times and has medium topple strength. It cn be used by Ultros and Ultros★.
It is also an enemy ability used by Ultros.
Gallery
[
]