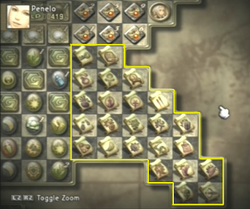 Technicks are skills that let you do things no Magicks can. Stealing treasures from your foes, staunching wounds... You should give 'em a try.

Rabanastran
The Technicks (技, Waza?, lit. Skills) skillset in Final Fantasy XII differs slightly in the original version compared to the Zodiac releases. All characters can learn the same skills due to its lack of unique classes. A technick must be bought from a shop before becoming available to the party, but for a character to use the skill, they must buy the appropriate license using License Points. Unlike magicks, technicks require no MP.
Using technicks over 100 times unlocks Vayne's sprite to the Sky Pirate's Den and earns the title of Premier Prestidigitator. Buying every technick adds Vossler's sprite and the title Jack-of-all-Trades.
Mechanics
[
]
While some offensive technicks always hit, most have a base hit chance, which is:
If the user's level is greater than target's, the chance becomes:
All damage dealt via technicks is physical in nature, except for Shades of Black, which is magickal. Technicks are unaffected by Reverse.

Ability list
[
]
Name
Target
Flying
CT
Type
Faith Modifier
Accuracy
MP Recovery
Null Sleep
Required License
Initial
Switch or With
Range
Area
Base
Safety Nulled by Safety augment

Steal

Enemy
No
3
Yes
Partial
30
Physical
None
Always
No
No
No
Steal15 LP

Steal from one foe.




Effect: Steal item(s) from an enemy. Improved by Thief's Cuffs. See here for mechanics.
Cost: 1,600 gil
Location: Rabanastre[note 1], Vaan initially, Balthier initially, Fran initially

Libra

Self
No
―
Single
Yes
10
Magick
None
Always
No
No
No
Libra20 LP

Reveal more detailed target information.




Effect: Reveals the HP, level, and elemental weaknesses of targeted enemies. Most bosses, Marks and Rare Game are immune. Also reveals hidden traps.
Cost: 500 gil
Location: Rabanastre, Basch initially

Poach

Enemy
No
Weapon
Single
Partial
50
Physical
None
80%
Yes
No
No
Poach30 LP

Capture HP Critical foes to obtain loot.




Effect: Defeats a HP Critical foe to obtain unique loot, forfeiting EXP, LP, CP, Gil, and drops. Enemies have two slots for Poach items, a common item (95% chance) and an uncommon item (5%). Some enemies have the same item in both slots. Poach items are unaffected by battle chain. Enemies with the Safety augment cannot be poached.
Cost: 7,000 gil
Location: Nalbina Fortress, Rabanastre[note 2], Bhujerba

First Aid

Ally
No
3
Single
No
15
Physical
None
Always
No
No
No
First Aid20 LP

Restore HP to one HP Critical ally.




Effect: Heals an ally with critical health for a minor amount of health. Always misses if ally's HP is not critical.
Cost: 700 gil
Location: Nalbina Fortress, Rabanastre[note 3], Balthier initially

Telekinesis

Enemy
No
10
Single
Yes
50
Physical
None
75%
No
Inquisitor
Yes
Telekinesis80 LP

Deal ranged damage with melee weapons.




Effect: Deals ranged attacks with melee weapons. Always misses if used with a ranged weapon. Does not deal combo hits, and damage inflicted is randomized; the user's level and stats do not matter.
Cost: 7,100 gil
Location: Necrohol of Nabudis[note 4]
Default: Vossler, Larsa, Reddas

Numerology

Enemy
No
10
Circle 6
Yes
25
Physical
None
―
Yes
Inquisitor
No
Numerology40 LP

Deal damage that increases with successive hits.




Effect: Damage doubles and accuracy decreases with each successive hit. Both reset upon missing. See here for details.
Cost: 2,048 gil
Location: Rabanastre[note 5], Nalbina Fortress[note 6]

Souleater

Enemy
No
Weapon
Single
Partial
35
Physical
None
Always
No
Inquisitor
No
Souleater35 LP

Consume HP to deal damage to one foe.




Effect: Consume 20% of your maximum HP to damage one ground-based enemy (1.4 times more powerful than a regular physical attack). Restores HP to undead targets.
Cost: 6,400 gil
Location: Bhujerba[note 7], Rabanastre[note 5], Nalbina Fortress[note 6]

Sight Unseeing

Enemy
No
Weapon
Single
Partial
25
Physical
None
10%
Yes
No
Yes
Sight Unseeing40 LP

Unleash an attack only available when blind.




Effect: Causes the enemy's HP to drop to a random number between 0 and 8; only usable while Blinded.
Cost: 6,800 gil
Location: Jahara[note 8], Rabanastre[note 6], Nalbina Fortress[note 6]

Charm

Enemy
No
3
Single
Yes
35
Physical
None
50%
Yes
No
No
Charm30 LP

Cause one foe to confuse friend with foe.




Effect: Inflicts Confuse on one enemy.
Cost: 5,000 gil
Location: Jahara, Rabanastre[note 6], Nalbina Fortress[note 6]

Achilles

Enemy
No
10
Single
Yes
55
Physical
None
40%
Yes
No
No
Achilles40 LP

Render one foe vulnerable to an additional element.




Effect: Adds one additional elemental weakness to one enemy.
Cost: 8,800 gil
Location: Rabanastre[note 9], Jahara, Nalbina Fortress[note 6]

Charge

Self
No
―
Single
No
40
Physical
None
―
No
No
No
Charge30 LP

Restore user's MP. If the technick fails, MP is reduced to 0.




Effect: Restores amount of user's MP. If the skill fails, MP is reduced to 0. The amount restored ranges from the value of the user's level to 1.33 times that. The probability of missing is the percentage of the user's remaining MP plus 1%.
Cost: 1,700 gil
Location: Rabanastre[note 2], Bhujerba, Nalbina Fortress[note 6]

Infuse

Ally
No
10
Single
Yes
40
Physical
None
Always
Yes
No
No
Infuse35 LP

Fully consume user's MP, changing one ally's HP to 10 times that amount.




Effect: Fully consumes user's MP to set ally's HP to 10 times the amount of sacrificed MP.
Cost: 2,000 gil
Location: Jahara[note 8], Rabanastre[note 6], Nalbina Fortress[note 6], Archades

Gil Toss

Enemy
No
10
Circle 6
Yes
45
Physical
None
Always
No
Inquisitor
Yes
Gil Toss35 LP

Throw gil, damaging all foes in range.




Effect: Throw gil equivalent to the total remaining HP all members to deal a maximum of 9,999 damage split between all enemies in range. Always misses if the player does not possess enough gil and no gil is expended.
Cost: 2,000 gil
Location: Jahara, Rabanastre[note 6], Nalbina Fortress[note 6]

1000 Needles

Enemy
No
10
Single
Yes
30
Physical
None
70%
No
Inquisitor
Yes
1000 Needles35 LP

Deal 1,000 damage to one foe.




Effect: Deal 1,000 fixed damage to one enemy.
Cost: 7,000 gil
Location: Mosphoran Highwaste[note 6]

Revive

Ally
No
3
Single
No
25
Physical
None
Always
No
No
No
Revive40 LP

Fully consume user's HP, reviving and fully restoring HP of one KO'd ally.




Effect: Sacrifice self to restore a KO'd ally to life and full HP.
Cost: 10,000 gil
Location: Balfonheim

Stamp

Enemy
No
10
Single
Yes
55
Physical
None
60%
No
No
No
Stamp40 LP

Inflict one foe with any status effects on the user.




Effect: Copies all active status effects and their durations aside from HP Critical from the user to another target.
Cost: 4,500 gil
Location: Archades

Shades of Black

Enemy
No
10
Single
Yes
45
Magick
Potency
―
No
Warmage
No
Shades of Black40 LP

Cast a random black magick on one foe.




Effect: Casts a random Black Magick spell on one enemy, including ones the user has not yet learned.
Cost: 5,000 gil
Location: Archades

Traveler

Enemy
No
10
Circle 6
Yes
40
Physical
None
Always
No
Inquisitor
No
Traveler65 LP

Deal damage based on total steps taken to all foes in range.




Effect: Deals damage to all enemies in range based on total steps taken. See here for calculation.
Cost: 6,700 gil
Location: Rabanastre[note 5], Nalbina Fortress[note 6]

Horology

Enemy
No
10
Circle 6
Yes
40
Physical
None
70%
No
Warmage
No
Horology55 LP

Deal damage based on a factor of time to all foes in range.




Effect: Damages all enemies in range based on game time. See here for calculation.
Cost: 2,000 gil
Location: Bhujerba, Rabanastre[note 5], Nalbina Fortress[note 6]

Bonecrusher

Enemy
No
Weapon
Single
Partial
45
Physical
None
45%
Yes
No
Yes
Bonecrusher30 LP

Consume HP to reduce the HP of one foe to 0




Effect: Consumes between 0 and all but 1 of the user's HP to reduce the HP of one enemy to 0. The user's HP is reduced to 0 if the attack misses, aside from when the attack has been nullified.
Cost: 700 gil
Location: Rabanastre[note 6], Archades

Wither

Enemy
No
Weapon
Single
Partial
45
Physical
None
66%
Yes
No
Yes
Wither35 LP

Lower one foe's strength.




Effect: Reduces an enemy's strength by 50%.
Cost: 3,500 gil
Location: Balfonheim[note 4]

Addle

Enemy
No
Weapon
Single
Partial
45
Physical
None
66%
Yes
No
Yes
Addle35 LP

Lower one foe's magick power.




Effect: Reduces one enemy's magick power by 50%.
Cost: 3,500 gil
Location: Rabanastre[note 6], Archades

Expose

Enemy
No
Weapon
Single
Partial
45
Physical
None
33%
No
No
Yes
Expose35 LP

Lower one foe's defense.




Effect: Reduces one enemy's defense by 10%.
Cost: 3,800 gil
Location: Balfonheim

Shear

Enemy
No
Weapon
Single
Partial
45
Physical
None
33%
No
No
Yes
Shear35 LP

Lower one foe's magick resist.




Effect: Reduces one enemy's magick resistance by 10%.
Cost: 3,600 gil
Location: Rabanastre[note 9], Jahara, Nalbina Fortress[note 6]
Gallery
[
]
References
[
]