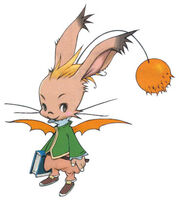 "Teach Me, Mont Blanc"
"Teach Me, Mont Blanc" (おしえて モンブラン, Oshiete Monburan?) is a song from Final Fantasy Tactics Advance, composed by Hitoshi Sakimoto. It was track number 15 on the Final Fantasy Tactics Advance: Original Soundtrack disc one and number 12 on disc two. The first time this song is played is when Marche Radiuju and Montblanc introduce themselves, right after the mission "Lizard Men!?".
At the original version, the music starts by playing a xylophone, then added by the rhythms of the tambourine. After that the flute plays with the use of Pizzicato on the violins, with the rhythms of the güiro. With a lively tempo, the music has a bouncy and lighthearted feeling.
Whenever this song plays, Montblanc is always on-screen. Shara's recruitment is one exception, which Montblanc has not appeared at the pub while Marche, Doned, nor Shara has ever mentioned him even once at the scene.
The environment also gives influence to this song. If it is at a crowded place (like a city or a pub), there will have a sound of people speaking, although the speaking cannot be heard clearly. If the song was played at the forest, there will be the sound of bird chirping.
There is also a remix called "Teach Me, Montblanc" from White: Melodies of Final Fantasy Tactics Advance. The song was arranged by Yo Yamazaki. At the song, there are three cycles, the first one was played by the bassoon, the second one was played with stringed instruments while the last cycle was played by vocals and violin pizzicato. The second and third cycle was accompanied by a few drums. At the third cycle, similar rhythms based on all of the percussion from the first and second cycle was played.
Trivia
[
]