Talcott Hester is a non-player character in Final Fantasy XV. He is the grandson of Jared Hester, the Amicitia family chamberlain. He looks up to Iris Amicitia as a sisterly figure, and idolizes Prince Noctis. He wants to one day become just like his wise grandfather.
Grandson of Jared Hester, retainer of House Amicitia. Gladiolus and Iris view him as something of a little brother, doting on him and watching him grow over the years. With Monica and Dustin's assistance, he fled the Crown City in the wake of the imperial assault. Now he spends his days in Lestallum, trying to find some way he can support his idol, Prince Noctis.
Talcott's heart is broken by the tragic death of his grandfather. Yet time heals all wounds and before long he is once again working hard to make himself useful to the prince. A paragon of decorum, Jared instilled within the young Talcott a staunch stoicism far beyond his years. Only when the topic of conversation turns to his favorite colorful cactuar statuettes does Talcott truly act his age.
Crazy about Cactuars
Edit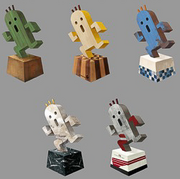 Talcott is collecting cactuar figurines which can be found for sale in various shops, and getting them for him completes a quest. Talcott already has one, and the player can find him four more. The figurines can be given to him at Cape Caem.
Cactuar Statuette
The shop at Wiz Chocobo Post.
Cactuar Model
The antique shop manned by a grandfather-grandson duo in Lestallum. The player can lower its price by completing a quest for the grandson.
Cactuar Sculpture
Shop outside the Leville Hotel in Altissia. The player must use Umbra to go back to give it to Talcott.
Cactuar Effigy
Formouth Garrison, the imperial base near Hammerhead. It is behind the white building after the player has cleared the area of enemies in Chapter 15.
In Chapter 14, Talcott's truck has the cactuar dolls on the dashboard. They appear even if the player doesn't collect them.
A Gift from Cid
Edit
After completing the game, the player can load their cleared save and return to the Kingsglaive Base Camp to find Talcott who hands the party the "Mysterious Key". The key unveils the Regalia Type-D that becomes drivable across Insomnia.

References
Edit
Community content is available under
CC-BY-SA
unless otherwise noted.