Takka Bradham is a non-player character in Final Fantasy XV. He works as operator, cook and hunt tipster at Takka's Pit Stop diner at Hammerhead service station. He gives the player quests for procuring ingredients for new menu items at his diner.
Proprietor of Takka's Pit Stop, diner next door to the Hammerhead body shop, Takka's louring looks belie a cowardly demeanor, startling so easily that customers standing at the counter sometimes catch him off guard. After he lost his family in the Great War thirty years ago, he was given a home and a new lease on life thanks to Cid. Takka now toils to repay this favor, helping around the service station and sending Noctis on errands in Cid's stead. His latest task: curing the crown prince of his unbalanced diet by encouraging him to eat more beans and vegetables.
Born in the town of Keycatrich, Takka was not afforded a happy childhood. After King Regis scaled back the Wall, it was not long before the flames of war consumed Keycatrich and claimed the lives of Takka's parents, leaving him an orphan in northern Leide. He fell in with a seedy crowd, turning to a life of stealing in order to stave off starvation. The young Takka prided himself in his heightened sense of hearing, which helped him escape capture on many an occasion. Certain that he couldn't be caught, he attempted to rob the Hammerhead Service Station one night, but his attempt at thievery was thwarted. Cid busted the would-be burglar, rapped him on the noggin, and took the juvenile delinquent in as his own.
Profile
[
]
Appearance
[
]
Takka is a dark-skinned man with a bald head and a black beard. He wears a white t-shirt and a white apron with the logo of his restaurant.
Personality
[
]
Takka is nervous and jumpy, easily startled. He has a passion for food and managing his restaurant. He is loyal to Cid Sophiar whom he considers having turned his life around, and thus wants to associate himself with Cid's business, the Hammerhead service station.
Story
[
]
Takka hails from the ruined town of Keycatrich and lost his family in the Great War thirty years ago. He became a juvenile delinquent to survive and tried to rob Hammerhead before being stopped by its owner, Cid. Cid put Takka's life on track when Takka started working at the diner at Cid's Hammerhead station. The diner is now owned by Takka who manages it alone, and comes up with new dishes to serve to patrons. When Prince Noctis and his friends use all their travel funds to repair their car, Cid directs them to become hunters to earn money, and Takka is one of the first tipsters they will meet. Takka makes it his mission to cure Noctis of his dislike of vegetables and beans.
Gameplay
[
]
Hunts
[
]
Quests
[
]
Starting from Chapter 2, Takka sends the party out to procure and deliver ingredients and rewards them with ingredients in return. Doing some of his quests adds new menu items to Takka's Pit Stop.
Takka's Pit Stop
[
]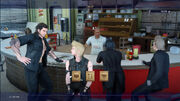 While at Hammerhead the party has a chance to meet Takka who runs the diner, Takka's Pit Stop, and is the local tipster. Takka was once taken in by Cid who helped him get his life back on track.
Behind the scenes
[
]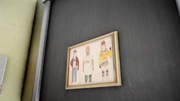 There is a drawing of Takka with Cid and Cindy in his diner. It was drawn by the Caricaturist.
Takka's dossier says that "King Regis scaled back the Wall", but this is likely a mistake, as Regis didn't ascend until after the Great War. The one who scaled back the Wall was Mors Lucis Caelum, Regis's father and Noctis' grandfather.
Noctis's exasperated expression at Takka requesting beans was somewhat adlibbed. Noctis's voice actor Ray Chase has explained it thusly: "There is a couple of instances where we were able to have a creative reign, like we had something in Japanese... Takka asks Noctis to pick up beans and it's some line like, 'Ah, I don't like beans very much.' But it didn't work. We had 2.3 seconds and just could not figure out something that would work. And so I said what if he just says 'Beaaaannnns…' And that was it! That ended up working!"[1]
References
[
]