World of Final Fantasy: Thane of Saronia Boss Fight
Play Sound

from Boss Fight Database
Takka, or Taca in some translations, is a non-player character from Final Fantasy III. He is the blacksmith of Kazus, and, in the 3D remake, Refia's adopted father, whom he wishes to train to be as fine a smith as himself.
Takka was cursed by the Djinn and did not have a mythril ring to break the curse. He and Refia helped build the airship for Cid Haze, and Takka eventually helps build the mythril ram for Cid's airship so the Warriors of the Light could travel out to the world.
Later, Takka mentions the Legendary Smith when he is unable to fix Princess Sara's pendant.
Other appearances
[
]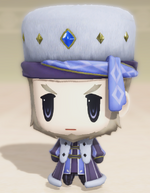 Who's Who

Thane of Saronia

CV: Joe Ochman / Ryo Horikawa
Age in Grymoire: 45
Notes: Thane of Saronia / Refia's uncle / Bahamutian soldier / Fate, destiny, crumbling cookies, etc. / Obsessed with being a part of something bigger
Sentient Soldier

Refia's uncle Takka was merely the guise for a Bahamutian soldier—but not just any soldier. Unlike the other Bahamutian grunts Lann and Reynn have encountered, this one is capable of thought, speech, and self-determination. No wonder Segwarides entrusted him with an entire nation in the Federation.
Who Is He?

Refie's uncle Takka perished when his body was seized by the Bahamutian soldier. Consider for a moment the similarities to how Reynn and Lann's parents were taken over, and the picture becomes a little clearer.
Segwarides summoned him to Grymoire, but he is not an Exnine Knight. Who, then? What you can take away is this: there may be many entities out there who, while unable to become Exnine Knights themselves, fight alongside them all the same. How fascinating that a manipulator of destiny like Segwarides summoned someone who obsesses over destiny in order to change destiny.
In the end, however, destiny had its own plan: that the thief who stole Takka's body face the consequences, and be undone by Takka's own nemesis.
First World of Origin:

FINAL FANTASY III: As Takka, in the remake

This section about a character in World of Final Fantasy is empty or needs to be expanded. You can help the Final Fantasy Wiki by expanding it.
Gallery
[
]