Check this out!
Swordplay (剣技, Kengi?, lit. Sword Art) is Tidus's Overdrive in Final Fantasy X. When executed, a meter and a count-down timer appear. At the center of the meter is a small, gold-colored space, which the player must try to hit by pressing
when the marker is within its borders to do additional damage. The amount of additional damage depends on how much time is left on the timer. The space shortens, the pointer moves faster, and the timer is shorter the stronger of the Swordplay the player chooses is. If the player misses, the marker will return to its default position (far left of the meter) and start moving again.
Tidus's Overdrives can inflict critical hits with a high Luck stat. Tidus learns new swordplay techniques by using his old ones. It is not necessary for the player to execute them perfectly to learn new techniques, and using any Overdrive counts toward learning the next one. Because Tidus learns new swordplay techniques by using his old ones, it is a good idea to use them as soon as one becomes available, rather than save them for boss battles.
Press button at the right time for extra damage!

Description
| Overdrive | Rank | Description |
| --- | --- | --- |
| Spiral Cut | 3 | Tidus does a series of flips and cartwheels towards one enemy, leaping up and slamming his sword down on them. Underwater, Tidus does not do the spin. Tidus starts with this Overdrive. |
| Slice & Dice | 4 | Tidus runs back and forth around enemies, attacking six random targets (three if the meter is not stopped). Underwater, Tidus does the same thing. If only one enemy is present, it will become the target of all six/three attacks. Tidus learns this Overdrive after executing 10 Overdrives, regardless of success. |
| Energy Rain | 5 | Tidus runs forward and jumps off one enemy into the air, then charges his weapon with energy and swings it to fire energy blasts at all enemies. Underwater, Tidus just unleashes the beams of energy. Tidus learns this Overdrive after executing 30 Overdrives, regardless of success (cumulative amount of times). |
| Blitz Ace | 7 | Tidus charges, then leaps at one enemy in slow-motion. He executes eight sword attacks on the enemy, plants his sword in the ground and leaps into the air, using the hilt of the planted sword as leverage. A party member (Yuna, Lulu, or Rikku, depending on affection mechanics) throws a blitzball to him, and the Overdrive meter appears. If the meter is stopped Tidus kicks the ball at the enemy, which explodes on contact. If the meter is not stopped Tidus misses the kick and falls to the ground. If the Overdrive is performed underwater, Tidus will simply swim away and kick the ball. Tidus learns this Overdrive after executing 80 Overdrives, regardless of success (cumulative amount of times). |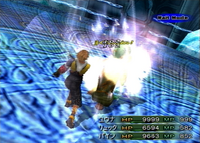 Tidus uses his Spiral Cut and Blitz Ace Overdrives in Final Fantasy X-2: International + Last Mission and Final Fantasy X-2 HD Remaster when fought in the Farplane Cup. He will use these skills sometimes in battle once he is captured.
Variants of Tidus's Overdrive abilities are used by Shuyin, albeit with different names (Spin Cut, Hit & Run, Force Rain, and Terror of Zanarkand, respectively). Although unrelated to Tidus's Overdrive set, Swordplay is also the name of the skillset for the Warrior dressphere.

A flurry of attacks leading to a magnificent shot.

Menu description of Tidus's EX Burst
Tidus has his Overdrives Spiral Cut, Slice and Dice and Energy Rain as HP attacks. His EX Burst is Blitz Ace, in which Tidus slashes his opponent several times, then throws a blitzball at them. The ball bounces back towards Tidus, and the player must stop a moving cursor to determine how much damage is done when Tidus kicks the ball a second time.
Jecht uses a version of Blitz Ace for his EX Burst, titled "Blitz King". Like Tidus, Jecht attacks his opponent with several sword slashes, then stabs the opponent with his sword and leaps off it. A boulder appears, and depending on how the player stops two timers, Jecht will kick it, the force shattering the boulder and sending the rubble flying at the opponent.
Tidus's HP attacks and EX Burst return, though their individual effects are rebalanced.
Tidus uses his Swordplay Overdrives when summoned as a Legend and players can obtain some of his Swordplay skills to use in battle.
Ability Cards
Legend Cards
Tidus uses his Swordplay skills.
Blitz Ace is Tidus's Champion summon ability. It inflicts neutral physical damage to one enemy, ignoring defense. It also grants Evasion+ to all allies. It is unlocked by completing chapter 18 and costs 1★ to use. When used "To Zanarkand" and Blitz Off!" from Final Fantasy X.
Spiral Cut is an active, water-elemental physical ability that inflicts physical water damage on a single target for 7 AP. It has low topple strength. It can be used by Lann (Tidus's Champion Jewel).
b
Community content is available under
CC-BY-SA
unless otherwise noted.