Use magic with sword.

Description
Swd Mag is Steiner's special ability from Final Fantasy IX as long as Vivi is in the party. Abilities become available when Vivi learns the corresponding Black Magic spell. Sword Magic adds to Steiner's weapon's attack power by adding the spell power and element (if it has one) to the attack.
Mechanics
[
]
Damage dealt is based on Steiner's Attack and Strength stat, as well as on the power of the spell. Though Sword Magic is physical rather than magical, they ignore the target's Protect status, and do not remove the Sleep status from it. Steiner cannot use Sword Magic if Vivi is not in the party, or if Vivi is under the Silence status or otherwise incapacitated, or if either of them are minied. Only Steiner's MP is consumed.
The damage formula for Swd Mag spells is as follows:
Base = Attack + Spell Power - Enemy Defense
Bonus = Strength + A random number 0 ... [(Level + Strength) / 8]
Damage = Base * Bonus
The Bonus will be enhanced by 50% if Steiner wears Elem-Atk equipment attuned to the spell's element; e.g. Demon's Mail to further empower Doomsday Sword. However, Steiner does not have much equipment that can boost his elemental damage. The Bonus is doubled if the enemy is weak to the Sword Magic's element, and halved if it resists it. The Sword Magic deals no damage if the enemy nullifies that element, and heals the enemy if it absorbs that element. Dagger's Scan can determine an enemy's elemental attributes and Amarant's Curse can add an elemental weakness to any enemy.
Sword Magic is still elemental with elemental spells even if Vivi equips Mag Elem Null.
List of Sword Magic
[
]
Other appearances
[
]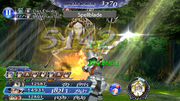 Steiner uses his Sword Magic in his spin-off appearances. In Dissidia Final Fantasy Opera Omnia, Spellblade is a Bravery ability for Steiner. It is a melee fire-elemental BRV attack that deals extra damage against humanoid types. Steiner uses this attack without Vivi's assistance. Flare Sword was introduced as Steiner's LD ability, and unlike Spellblade, does feature Vivi enchanting Steiner's attack just like in Final Fantasy IX.
In Final Fantasy Record Keeper, one of Steiner's Super Soul Breaks is Sword Magic Firaga, learned from the Tin Armor (IX). It deals four fire-elemental attacks to all enemies, each hit dealing damage equal to 147% the normal damage, for a total multiplier of 588%. All enemies' fire resistance is reduced by 20% for 25 seconds. Upon mastery, Steiner gains 10 ATK. In addition, as a reference to his Sword Magic ability, Steiner can use Spellblade abilities up to five stars of rarity.
Steiner also uses his spellblades in Final Fantasy Airborne Brigade and Final Fantasy Brave Exvius.