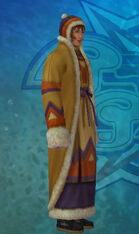 I had started to miss the quietude of the Calm Lands. But let's do it again sometime.

When released from contract
Svanda is a blitzball player free agent. Many players cannot find her due to the rumor that she is the chocobo lady in the Calm Lands. However, she is a different person sharing the character model, and is positioned around the middle of the northern edge next to a giant spike in the ground. Meeting her the first time triggers a short video sequence where she tells Tidus about the Scar left in the earth during the fight between Sin and High Summoner Gandof.
Except for her low CA, her starting stats are balanced, and in particular her SH and BL are strong. As she gains experience, her EN and PA develop the quickest.
Blitzball stats
[
]
Key Techniques
Nap Shot
Regen
Venom Tackle 2
Stats
[
]
| LV | 1 | 5 | 10 | 15 | 20 | 25 | 30 | 35 | 40 | 45 | 50 | 60 | 70 | 80 | 90 | 99 |
| --- | --- | --- | --- | --- | --- | --- | --- | --- | --- | --- | --- | --- | --- | --- | --- | --- |
| HP | 100 | 235 | 430 | 655 | 910 | 1,196 | 1,510 | 1,855 | 2,230 | 2,635 | 3,070 | 4,030 | 5,110 | 6,310 | 7,630 | 8,920 |
| SP | 60 | 60 | 60 | 60 | 60 | 60 | 60 | 60 | 60 | 60 | 60 | 60 | 60 | 60 | 60 | 60 |
| EN | 10 | 12 | 14 | 17 | 20 | 23 | 26 | 30 | 33 | 37 | 41 | 49 | 57 | 66 | 76 | 85 |
| AT | 10 | 10 | 10 | 10 | 11 | 12 | 12 | 14 | 15 | 16 | 18 | 21 | 26 | 31 | 36 | 42 |
| PA | 8 | 10 | 12 | 15 | 17 | 20 | 24 | 27 | 31 | 35 | 39 | 48 | 58 | 69 | 81 | 92 |
| BL | 15 | 15 | 15 | 15 | 15 | 16 | 17 | 17 | 18 | 19 | 21 | 23 | 26 | 30 | 34 | 38 |
| SH | 14 | 15 | 17 | 19 | 21 | 23 | 25 | 26 | 28 | 30 | 32 | 36 | 39 | 43 | 47 | 50 |
| CA | 4 | 4 | 4 | 4 | 4 | 5 | 5 | 5 | 6 | 6 | 7 | 8 | 10 | 12 | 13 | 15 |
Techniques
[
]
Starting Techniques: Anti-Nap 2, Venom Tackle 3
See also
[
]