White Mage
:
Life's refreshing breeze, blow in energy! Cure!
This article can be improved in areas such as flavor text, and italicize flavor text.
Please refer to the
Manual of Style
or
editing help
to get started.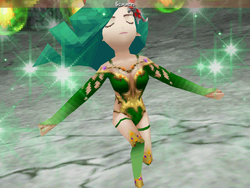 Summon an Eidolon.

Description
Summon (召喚, Shōkan?) is an ability in Final Fantasy IV: The After Years which allows the summoning of an Eidolon to deal massive damage or cause devastating effects. The skillset is exclusive to Rydia. All summons are gained during the final chapter, though all are usable during a portion of Porom's Tale.
List of summons
[
]
Gallery
[
]
Wii
Etymology
[
]
[view · edit · purge]Evocation is the act of calling upon or summoning a spirit, demon, god or other supernatural agent, in the Western mystery tradition. Comparable practices exist in many religions and magical traditions and may employ the use of mind-altering substances with and without uttered word formulas.