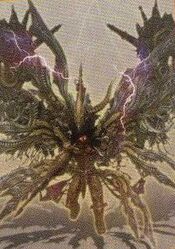 "Struggle for Freedom"
"Struggle for Freedom" (自由への闘い, Jiyū e no Tatakai?), also known as "The Battle for Freedom", is the final boss theme of Final Fantasy XII. It was composed by Hitoshi Sakimoto.
Within the piece can be heard a medley of boss themes throughout the game, including "Flash of Steel", "Discord [Imperial Version]", and "Life and Death", as well as the continuous riff of the "The Archadian Empire" and the Final Fantasy XII main theme; which is most prominent in the song's climax.
Game appearances
[
]
"Struggle for Freedom" plays during the battle against the final boss. The theme's tension-building opening portion begins playing during the cutscene in which Vayne Solidor morphs into The Undying, running from 0:00-3:10. The remainder of the theme begins as the boss fight opens and loops from this portion, should the battle run long enough. Should the player choose to skip the cutscene, the theme will begin immediately from this latter portion. In the original soundtrack, it is the sixteenth track on the fourth disc.
Synthesized to the quality of the Nintendo DS, this track plays during the final battle against Feolthanos Exultant.
"Struggle for Freedom" is the eleventh track of the Memories of FFXII album playable in the music player, bought from Verinas Mart - Ravatogh for 100 gil.
"Struggle for Freedom - Original" is the the tenth track on disc 2 of the soundtrack. This version cuts the lengthy intro from the original version. It can be purchased for 240 PP from the PP Catalog.
The theme appears during the main storyline during the final duel between Vaan and Kefka, and in Shantotto's battle against Gabranth.
"Struggle for Freedom" from Dissidia Final Fantasy NT
A new orchestral arrangement and the original PlayStation 2 versions are available from the shop for 3,600 gil.
"Struggle for Freedom" appears as a Battle Music Sequence. It is available by default.
"Struggle for Freedom" is a playable Battle Music Sequence. It can be bought in the song store for 5 sound medals.
Difficulty
Beginner
Basic
Expert
Ultimate
Transcendent
N/A
3
4
9
N/A
See also
[
]