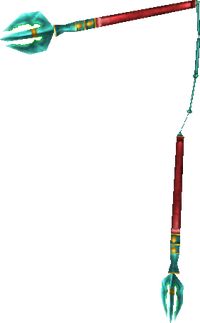 This Strange Vision is famous for its ability to hit a target with perfect accuracy. It's also famous for its rarity.
Strange Vision (ゆめかまぼろしか, Yume ka Maboroshi ka?, lit. Dream or Illusion?) is a recurring weapon in the series.
Appearances
[
]
Strange Vision is Selphie's ultimate weapon, providing 25 Attack and 255 Hit Rate. It can be obtained from a junk shop by trading 800 gil, an Adamantine, Star Fragment x3, and Curse Spike x2. The Strange Vision is a vajra-themed weapon, with jade three-pronged trident heads and a red gripping cover on its handle and gold accents.
Gallery
[
]