A black polearm brought from the faraway world of Eos. The spear incorporates magitek technology, which allows the user to soar through the air. The spear is extremely difficult to use, so only the most skilled were able to use it properly. It is said that a certain beautiful female dragoon of the Niflheim Empire forces used this spear.

Final Fantasy Brave Exvius description
Stoss Spear (シュトースシュペーア, Shutōsushupēa?, lit. Stoßspeer) is a recurring weapon in the Final Fantasy series. It is used primarily by Aranea Highwind from Final Fantasy XV.
Appearances
[
]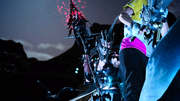 A magitek-enhanced spear that allows the wielder to rule the skies. Forged especially for Aranea, it is beyond the handling of all others.

Description
Stoss Spear is Aranea's personal weapon, which provides 241 Attack. It is locked to Aranea, never being in the player's inventory. She wields it as a guest and a boss in Final Fantasy XV and "Final Fantasy XV: Episode Prompto".
The Stoss Spear (XV) is Aranea's exclusive 35 CP weapon. It carries the Affinity passive "Division Maneuver", which has an equip cost of 20 CP and significantly enhances her Highwind ability to do increased spread damage as well as improving damage against a solo target.

This section about equipment in Pictlogica Final Fantasy is empty or needs to be expanded. You can help the Final Fantasy Wiki by expanding it.

This section about equipment in Final Fantasy Record Keeper is empty or needs to be expanded. You can help the Final Fantasy Wiki by expanding it.
Stoss Spear is Aranea's Trust Master reward. Its a two-handed spear with 140 Attack, and grants the passive High Jump (increasing the damage of Jump-type attacks by 100%). As a two-handed weapon, it has a damage range of 100% - 160%, as opposed to the spears' typical range (85% - 115%), and gives a 50% increase to the equipped unit's Accuracy.
During the event Imperial Infiltration, Trust Moogles specific to the Stoss Spear appeared as raid summons.
Gallery
[
]
Etymology
[
]
Stoß is the Old High German word for "push". Stoss is from German stoss-, from stossen ("to push"), from Old High German stōzan.