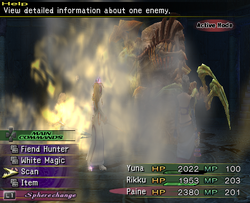 Stone Breath (石化ブレス, Sekika Buresu?, lit. Petrify Breath) is a recurring ability in the series.
Appearances
[
]
Stone Breath is a Ronso Rage Overdrive for Kimahri. It turns all enemies into Stone and will always hit unless the enemy is 100% immune to petrification. Kimahri can learn the ability by using Lancet from Basilisks and Anacondaurs.
Stone Breath is a Blue Bullet ability used by Gun Mages that petrifies all enemies. The ability is learned from the Doomstone-type enemies and costs 32 MP to cast. It has 40% of chance of inflicting Petrify on a target.[1]
Breath of the Gorgon inflicts damage equal to 1/2 of remaining HP and Petrify. It is used by Adamantoise and Adamantortoise while Oversouled.
Petribreath is an enemy ability that petrifies targets within a fan-shaped area. It us used by the Ram family.
Stone Breath is an enemy ability used mostly by the Wyrm class of enemies, and it inflicts physical damage as well as Petrify.
Stone Breath is an enemy ability, used by Axebeak and Cockatrice, which inflicts Petrify on all units in a cone in front of the user.
Gallery
[
]
References
[
]