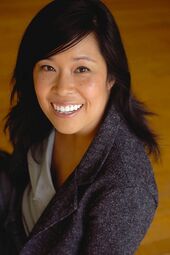 Stephanie Sheh (born April 10, 1977) is an American voice actress, ADR director, writer and producer.
She is most well known for voicing Hinata Hyuga in Naruto, Orihime Inoue in Bleach, Sailor Moon in Sailor Moon, Yui in Sword Art Online, Tharja in Fire Emblem: Awakening, Yui Hirasawa in K-ON!, Nui Harime in Kill la Kill, Kuro in Blue Exorcist, Mikuru Asahina in the Haruhu Suzumiya series, Zhu Li Moon in The Legend of Korra, Mikan Tsumiki inDaganronpa, Eureka in Eureka Seven, Natalia Luzu Kimlasca-Lanvaldear in Tales of the Abyss, Mitsuha Miyamizu in Your Name, Zeena in Sonic: Lost World, Chris in Is This a Zombie? of the Dead and Akira Kogami in Lucky Star.
Community content is available under
CC-BY-SA
unless otherwise noted.