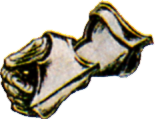 Gloves made of steel.

Final Fantasy description
Steel Gloves (はがねのこて or 鋼の小手 or はがねの小手, Hagane no Kote?), also known as Bronze Armlet and Iron, is a recurring piece of equipment in the series. It most often appears as an armor, but also has appeared as an accessory and weapon.
Appearances
Edit
Steel Gloves is a low-ranked glove that provides 4 Defense, -5 Evasion, and 5 Weight, and can be equipped by the Warrior, Knight, and Ninja. It can be bought for 600 gil (750 gil in Normal mode) at Melmond or found as treasure at Western Keep by using the Mystic Key or the Citadel of Trials.
Steel Gloves is the renamed Gauntlet.
Bronze Armlet is a low-ranked armlet that provides 3 Defense, 2 Evasion, and 2 Magic Evade.
Community content is available under
CC-BY-SA
unless otherwise noted.