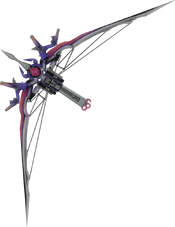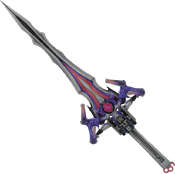 Mog can transform into this versatile weapon.

Final Fantasy XIII-2 description.
The Starseeker (スターシーカー, Sutā Shīkā?), also parsed as Star Seeker, is Serah Farron's trademark bowsword from Final Fantasy XIII-2. Outside Final Fantasy XIII-2, the Starseeker is classified as a bow and is always in bow form. Its true form is Mog.
It has an inscription written in Etro script, which says: "The light that pierces the enveloping gloom of time and illuminates the truth."
Appearances
[
]
The Starseeker is Serah's initial bowsword. It raises Strength and Magic by 4 points, and its synthesis ability is High HP: Power Surge. Serah receives the weapon from Noel Kreiss before her first battle as a playable character. The weapon's true form is Mog, whom Noel received from Lightning to give to Serah to keep her safe, and also as a "good luck charm".
Even when Mog is away due to story reasons, Serah can still use the Starseeker.
According to Final Fantasy XIII-2 Fragments After, Lightning lost her weapon when fighting Bahamut in Valhalla, but Mog transformed into a bow for her to use to overcome the Eidolon.
The Starseeker is an
Bow for
Archers. It is one of the rewards for the event Lightning Strikes, and can otherwise be purchased on the Mog Station. Given its low level and attributes, it mainly used for glamour purposes.
Starseeker

Archer's Arm
ARC BRD Lv. 13
Item Level 13
Physical Damage: 11
Auto-attack: 10.26
Delay: 2.8

Dexterity +2
Vitality +2
Critical Hit +3
Determination +2


Repair/Melding/Desynthesis:
Carpenter
Dyeable: No
Untradeable
Starseeker is a base 5★ 15 CP bow accessible to all bow wielders. When equipped on Serah, it enhances her default ability Wound.
The Starseeker is the initial weapon for Serah.
The Starseeker is a bow. Its R rarity model has 680 Attack, 660 Defense, and is of Normal growth rate. Its R+ rarity model has 990 Attack, 1020 Defense, and is of Normal growth rate.
Starseeker is a 5★ bow with Ultima Arrow as a unique Super Soul Break for Serah.
Gallery
[
]
Trivia
[
]