Staves (杖, Tsue?), also known as canes, are a recurring set of weapons from the Final Fantasy series. In the early series they were usually wielded by White Mages, while Black Mages tended to wield rods. This relationship has been reversed in more recent games like Final Fantasy IX, Final Fantasy XI and remakes of Final Fantasy XII. Recurring staves include Rune Staff, Power Staff (which is more suited for improving Attack power), Healing Staff, and the Sage's Staff, which is usually the ultimate of this weapon type. The staff usually increases the user's Magic Power.
Profile
[
]
In many traditional RPGs, staves are the trademark weapon of magic-using classes, said to help draw and amplify the user's own magical power. In Final Fantasy, staves commonly feature a cane head or other sort of adornment naturally born of the material itself, with some featuring humbler details like crystals, tip ornaments, and sheathings of various materials.
Appearances
[
]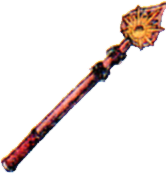 Staves can be equipped by the White Mage and Black Mage classes. The Warrior and Monk classes can also equip some staves.
List of staves:
Staves, also known as canes, can be equipped by everyone in the party, though Minwu is the only character that comes with one equipped by default. In earlier versions, staves had the lowest penalty to intelligence and spirit at only five percent. This makes staves the best option for magic users in these versions. This factor was removed in the Dawn of Souls release and all later versions.
List of staves:
Staves can be equipped by magic-based jobs. Holy Wand can only be equipped by Devouts while Sage Staff can only be equipped by Sages.
List of staves:

Staves can be equipped by Tellah, Porom, Rydia (child), Rosa, Paladin Cecil, and Fusoya, though the 3D remake removed Cecil's ability to wield them. In the 3D versions, Golbez can equip staves, if hacked into the party.
List of staves:
Staves can be equipped by Cecil, Rosa, and Porom.
List of staves:
List of staves:
Staves can be equipped by the Freelancer, White Mage, Time Mage, Red Mage, Chemist, Oracle, and Mime.
Different staves use different damage formulae. The Light Staff, Staff of Judgment and Sage Staff deal damage based on the attacker's Magic stat and the target's Resistance / Magic Defense. The Staff, Axe, Flail and Mace of Zeus use the same damage formula as axes and hammers, and benefit from Double Grip.
List of staves: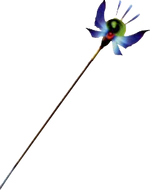 Staves can be equipped by Aeris.
List of staves: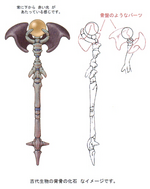 Vivi can equip staves. He is the first Black Mage that wields staves in the series.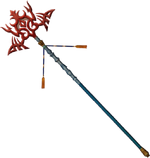 Yuna uses a mixture of staves and rods and is the only playable character who wields them. Seymour and Braska also wield them.
Yuna, Rikku and Paine wield staves from Final Fantasy X in their White Mage and Black Mage dresspheres. While in the White Mage dressphere, Yuna uses her default Staff, Rikku uses the Spiked Rod, and Paine uses the Malleable Staff. While in the Black Mage dressphere, Yuna uses Nirvana, Rikku uses the El Dorado and Paine uses the Enchanted Rod.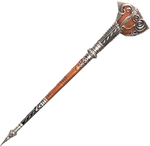 Staves are a two-handed weapon which are used more often for their stat boosts than for damage. Early on, staves tend to give minor bonuses to HP and MP, but their usage increases at level 51 when players get access to Elemental Staves, which boost the potency and accuracy of spells of their respective elements.
The White Mage, Black Mage, Summoner, Scholar, Monk, Dragoon, and Paladin jobs are proficient on the use of staves.
The Staff skill encompasses not only standard mages' staves, but also poles and quarterstaff melee weapons. However, quarterstaves are restricted to White Mages, Paladins, Dragoons, and Monks, as they are designed for heavy melee damage.
Apollo's Staff
Aquilo's Staff
Archalaus's Pole
Ash Pole
Ash Pole +1
Ash Staff
Ash Staff +1
Astral Signa
Astral Staff
Auster's Staff
Bahamut's Staff
Bastokan Staff
Battle Staff
Battle Staff +1
Capricorn Staff
Carbuncle's Pole
Catalyst
Caver's Shovel
Chanter's Staff
Cocytus Pole
Dark Staff
Diabolos's Pole
Dolphin Staff
Dorje
Dryad Staff
Dusky Staff
Dynamis Staff
Earth Staff
Ebony Pole
Ebony Pole +1
Elm Pole
Elm Pole +1

Elm Staff
Elm Staff +1
Fay Crozier
Fay Staff
Federation Pole
Federation Signet Staff
Federation Staff
Flexible Pole
Footman's Staff
Freesword's Staff
Gelong Staff
Grim Staff
Heavy Staff
Himmel Stock
Holly Pole
Holly Pole +1
Holly Staff
Holly Staff +1
Hope Staff
Hypno Staff
Imperial Pole
Iron-splitter
Iron-splitter +1
Jupiter's Staff
Kebbje
Kingdom Signet Staff
Kinkobo
Kinnara Pole
Kirin's Pole
Kukulcan's Staff
Laevateinn (Black Mage)
Legionnaire's Staff

Mahogany Pole
Mahogany Pole +1
Mahogany Staff
Martial Staff
Master Caster's Pole
Mekki Shakki
Mercenary's Pole
Mercurial Pole
Mighty Pole
Military Pole
Misery Staff
Monster Signa
Musketeer's Pole
Musketeer's Pole +1
Musketeer's Pole +2
Mythic Pole
Mythic Pole +1
Neptune's Staff
Nirvana (Summoner)
Oak Pole
Oak Pole +1
Oak Staff +1
Pastoral Staff
Perdu Staff
Pestle
Platoon Pole
Pluto's Staff
Pole of Trials
Perlatic Pole
Prester
Pride Staff
Primate Staff
Primate Staff +1
Quarterstaff

Ramuh's Staff
Relic Staff
Republic Signet Staff
Republic Staff
Revenging Staff
Revenging Staff +1
Scepter Staff
Somnus Signa
Spiked Club
Spiked Club +1
Steel-splitter
Sunlight Pole
Terra's Staff
Thunder Staff
Thyrsusstab
Thyrus
Treat Staff
Treat Staff II
Trick Staff
Trick Staff II
Tupsimati (Scholar)
Vulcan's Staff
Walrus Staff
Water Staff
Whale Staff
Whale Staff +1
Wind Staff
Windurstian Pole
Windurstian Staff
Wise Wizard's Staff
Wyvern Perch
Yigit Staff
Zen Pole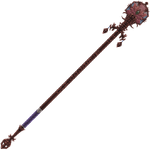 In the original version, every party member can equip staves, as long as they have acquired the right license. Staves boost Magick Power and elemental damage (although this property is not documented in-game), but have less Attack Power than rods. Staves depend on both Strength and Magick Power. The higher the character's level, the more weight is put on Strength, and less on Magick, though.
In the Zodiac versions, staves are Black Mage's primary weapon. They can also hit flying targets.
The damage formula for staves is:
Damage depends on the weapon, the user's Strength and Magick Power and character level. The characters' stats can vary by up to 30%, with the highest Strength+Magick characters being Ashe and Vaan.
List of staves:
Staves can be equipped by Penelo. Their Attack power is usually half that of their Magick attack.
List of staves: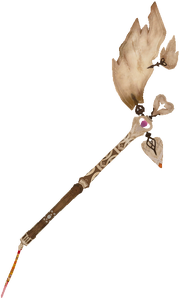 Staves and rods are used by Vanille. Her unique rod is called a Binding Rod. The Binding Rod has a pair of antlers that release hooks connected to lines. This allows her to physically attack from a distance. It can be assumed that the Dia clan used staves to "fish" wyverns as seen in Chapter Nine, presumably as means of transport through Gran Pulse.
List of staves: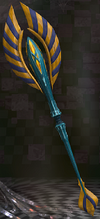 Staves are a weapon type available to Lightning. They specialize in boosting Magic, which makes them suited for Schema focused on spellcasting. While equipped with a staff, Lightning's casting animation will change to a more swift one reducing the delay produced by other weapon types.
List of staves:
As Final Fantasy XIV divides weapons into categories based the disciplines that use them rather than what they are, there is no clearly defined split between rods and staves, with a variety of rods, staves, canes, wands, and other similar weapons appearing spread throughout the arms used by
Black Mages,
White Mages, and
Blue Mages.
Staves can be equipped by the White Mage, Mystic, Time Mage, and Summoner classes.
List of staves:
The White Mage, Bishop, and Summoner jobs can equip staves. Staves are more expensive at the moogle town of Baguba Port.
List of staves:
Staves can be equipped by the White Mage, Bishop, and Summoner jobs.
List of staves:
There are six different types of staves.
List of staves: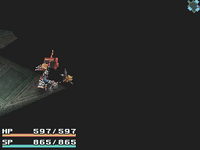 Yukes use staves as weapons.
List of staves:
Staves appear as a type of weapon.
List of staves:
Staves can be equipped by all four main characters.
List of staves:
Staves can be equipped by all jobs, but are best suited for the Black Mage and Sage crowns. Staves increase the magic attack of the wearer.
List of staves:
Staves are a class of weapons.
List of staves:
Staves can equipped by Firion, The Emperor, Onion Knight, Cloud of Darkness, Bartz, Exdeath, Terra, Kefka, Ultimecia, Kuja, and Shantotto. Staves specialize in increasing the duration of the character's EX Mode.
Firion, Onion Knight, Shantotto, and The Emperor utilize staves in combat.
List of staves:

Staves can be equipped by Tifa, Yuna, and Vaan. Staves specialize in increasing the duration of the character's EX Mode.
List of staves:
Staves can be equipped by the White Mage, Devout, Sage, Rydia, Krile, Eiko, and Yuna.
List of staves: