Squall Leonhart is a hero fighting on the side of Materia in Dissidia Final Fantasy NT and its arcade version. He is an Assassin type character. Squall returns from his original appearance in the 2008 Dissidia Final Fantasy and Dissidia 012 Final Fantasy, in which he had a very similar combat style.
Squall's default player name is Nameless Lion, and his manikin counterpart has been renamed Otherworldly Lion.
Profile
[
]
Appearance
[
]
Squall's default costume, "Balamb Mercenary", is an updated version of his main attire in the Dissidia series, which in turn is a fusion of his Yoshitaka Amano and Tetsuya Nomura art styles. The first alternate coloration recolors his his shirt black, the soles of his shoes white, his fur on his jacket and pants a gradient of black and white, and makes his leg sash purple with a pattern design of Griever. The second alternate coloration recolors his shirt black and soles white, and his fur ruffles black, as well as switching out his pants with denim blue jeans with white tear marks.
Squall's first alternate costume, "SeeD Uniform", is an updated version of his "SeeD Uniform" attire from previous Dissidia games, which was based on the military-style outfit he wore in Final Fantasy VIII during his graduation celebration. It consists of a black jacket with gold trim fastened by a belt, black pants and knee-high black boots. The jacket's cuffs are red with silver shoulders connected by a chain across the chest. The first alternate coloration of this costume colors Squall's SeeD uniform white, based on the White SeeD uniforms in Final Fantasy VIII. The second alternate coloration is based on the Dollet soldier uniforms seen during the Siege of Dollet

, and recolors the uniform's jacket dark green and the shoulders black, while retaining the black pants and boots.
Squall's second alternate costume, "Sleeping Lion", is an updated version of his "Kingdom Hearts Gear" attire from Dissidia 012 Final Fantasy, based on his Kingdom Hearts appearance. His jacket has the same wing patterns as those on the outfit of Rinoa Heartilly, and a Griever emblem on his shoulders; his undershirt has a higher collar, and his hair is longer, corresponding to his older age in the Kingdom Hearts series. He wears three brown belts on his left arm and an additional three over his waist. This costume has two alternate colorations: one which colors the jacket pale brown, his jeans to khaki, and his auxiliary belts black; another which colors his jacket white, his jeans blue, and his auxiliary belts black.
Personality
[
]
Due to retaining his memories, Squall is now more open and relies on others while still appearing stoic. While he still wants to go off and do his own thing, he doesn't mind that Terra wants to go with him and gets along with his fellow warriors. Squall is not interested in the cycle and wants to go back home. He has a fondness for the gods' world enough to yield a crystal doppelgänger to fight in his stead.
Equipment
[
]
Squall equips gunblades, which are the customizable models as portrayed in the serial publication of Weapons Monthly magazines and, bar the Hyperion and the Sleeping Lion, are used by him in Final Fantasy VIII.
His default weapon is the Revolver, which retains its original shape and design from various promotional art and renders from Final Fantasy VIII. Squall's first alternate weapon is the Cutting Trigger, which has a slightly worn or rusted barrel, and a lighter black handle. His second alternate weapon is the Twin Lance, which has a barrel with a darker metal tint, and a black outline around the handle. His third alternate weapon is the Hyperion, based on Seifer Almasy's gunblade, with an altered handle compared to its original shape and an outer handle to accommodate the design of Squall's gunblades. Squall's fourth alternate weapon is the Sleeping Lion, which was a gift given to Sora by Leon before one of the former's trips to explore other worlds in Kingdom Hearts II. Its handle has been altered compared to its original shape, and it has an outer handle to accommodate the design of Squall's gunblades.
Story
[
]
Materia summons Squall back to World B as one of her chosen warriors, much to his disdain. As he makes his way to her domain, he is startled by Y'shtola appearing behind him. After learning about their new purpose to harness battle energy, Squall is nearby as Terra, Zidane, and Lightning discuss their first course of action. Terra suggests they seek guidance from the resident Eidolons, and Squall sets off on his own to carry this task out. Terra catches up with him and convinces him to stick together, and Squall reluctantly agrees.
While they set off toward an Eidolon, Terra picks up the presence of another close by. Squall separates from the group to pursue their initial target, and Lightning follows after him. They end up in Eden where they find Snow wandering by himself. Odin manifests before them, and after Odin's defeat and parting with Snow, Lightning thanks Squall for helping her. Squall shrugs it off, saying he's just doing his job. They reunite with Terra and Zidane, and are approached by the Onion Knight, Vaan and Y'shtola. Squall stands idly by as the groups converse, and joins them as they return to Materia's domain to report their findings.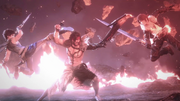 When the final clash commences, Squall participates by facing off against Jecht. Squall takes full advantage of his gunblade's capabilities, but is overpowered and knocked down. He is targeted by Golbez, who levitates the terrain around him. Bartz tries to interrupt him, but Golbez deflects his attack and sends a barrage of rocks toward Squall. Cloud intercepts the attack and counters, allowing Squall to continue his fight with Jecht alongside Bartz. Shinryu awakens and descends upon them, prompting Squall and the others to combine their efforts and defeat the dragon god.
Squall is permitted to return to his homeworld, and he grants his essence in crystal form to Materia for her to use in his stead.

Gameplay
[
]
Squall is a quick-hitting fighter with his ever-so-penchant focus on a variety of Bravery attack strings, though his HP attacks can be hard to use. Squall's new Trigger mechanic has the player input the Bravery attack button during any hits of his Bravery attack strings, causing his gunblade to emit explosions per slash, indicating extra damage inflicted (as a nod to his original mechanic in Final Fantasy VIII). This forces players to have near-frame-perfect execution on his Bravery attacks, which aren't as damaging on their own. However, an expert can rack up massive Bravery with ease.
Squall still lacks far-ranged attacks, being only useful in both close and mid-range combat. He also lacks solid pure-vertical attacks outside of his Rough Divide.
Squall has been slightly reworked with his overall damage being boosted, but with his Trigger damage being overall lowered as compensation. The range of his Ultima was nerfed, now only having one use before needing to draw/junction the buff once more, but it now has decreased start-up.
Type: Assassin - Input bravery combos with correct timing to increase Squall's damage.
EX Skill: Draw & Junction - Receive a buff that varies based on the target's character type. Vanguards grant HP regen, marksmen grant bravery regen, and assassins grant increased movement speed. Proximity enhances effect.
Abilities
[
]
Move
Damage
Input
Type
Power
Frame Data
Image

Solid Barrel

Bravery
Ground
Unleash a flurry of gunblade attacks. Damage dealt can increase with well-timed button presses.

Uppercut Blue

Bravery
Ground
Slash your opponent multiple times while advancing. Damage dealt can increase with well-timed button presses.

Lightning Shot

Bravery
Ground
Summon a line of lightning bolts that pulls your enemy toward you. Creates an opportunity to cancel into another bravery attack.

Gnashing Fang

Bravery
Aerial
Acrobatically slash your foe time and time again. Damage dealt can increase with well-timed button presses.

Savage Claw

Bravery
Aerial
Slash your enemy multiple times while advancing. Damage dealt can increase with well-timed button presses.

Devastating Slug

Bravery
Aerial
Quickly close in on your opponent and mow them down. Creates an opportunity to cancel into another bravery attack.

Keen Edge

Bravery
Dash
Charge in and strike your opponent twice.

Fated Circle

HP
-
Spin around if grounded (somersault if airborne) and shoot an explosive slug from your gunblade.

Rough Divide

HP
-
Close in on your target and launch them into the air with an upward strike.

Blasting Zone

HP
-
Send a massive blade of light hurtling toward foes. Charging increases range.

Ultima

HP
-
Draw Ultima from the target. In the event you already possess Ultima, trigger an explosion at the target's position.

Draw & Junction

EX Skill
-
Draw magic from your target and junction it to yourself. The spell's effect and duration depend on your foe's character type and your distance from them when cast.
Gallery
[
]
Allusions
[
]
The intro animation that Squall realizes during the Summon battles is a direct interpretation of his battle stance in Final Fantasy VIII.
If Squall isn't either controlled the player or by his direct rival during an introduction of a battle, one of the two possible animations that he has rends him in a pose similar to the one featured in one of his CG renders from his original game.