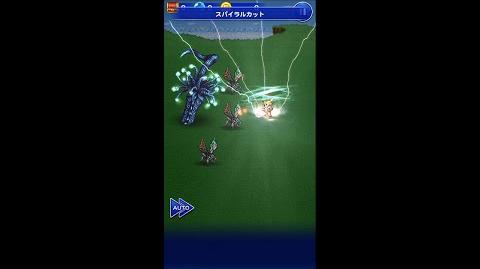 Spiral Cut (スパイラルカット, Supairaru Katto?) is a recurring ability in the series. It is the initial Overdrive and trademark attack of Tidus, which deals one single powerful physical attack on one target.
Appearances
Edit
Spiral Cut is Tidus's initial Overdrive ability, and deals heavy physical damage to one enemy.
Spiral Cut is an enemy ability used by Tidus in the Fiend Arena, which just deals moderate non-elemental physical damage to one party member. This ability is not used when Tidus is controlled by the AI in the party.
Spiral Cut I-IV were water-elemental physical attacks in the original free-to-play versions. The abilities could be used by any party member as long as they had the Tidus signet equipped. The abilities dealt heavy water-elemental physical damage to a single enemy. Spiral Cut dealt more damage depending on the summon's rank and had increased MP costs for each version of the spell. The abilities were removed from the premium versions.
Spiral Cut is a ground physical HP Attack for Tidus, known by default. It requires 180 AP to master, 40 CP to equip (20 when mastered), and has Melee High priority.
Spiral Cut is a HP Attack for Tidus, and retains all properties from the previous game. It now requires 130 AP to master and 30 CP to equip (15 if mastered).
Spiral Cut is the ability of the Tidus card.
Spiral Cut is one of Tidus's equipment Soul Breaks available from the sword Brotherhood (X) which at the expense of one Soul Gauge segment unleashes a powerful attack on all targets which deals physical damage equal to 480% power of a conventional attack. Bringing Tidus to battle and emerging victorious with Brotherhood (X) equipped, he can eventually master this Soul Break and be able to use it without the need to have it equipped.
Spiral Cut is an active, water-elemental physical ability that inflicts physical water damage on a single target for 7 AP. It has low topple strength. It can be used by Lann (Tidus's Champion Jewel).
Community content is available under
CC-BY-SA
unless otherwise noted.