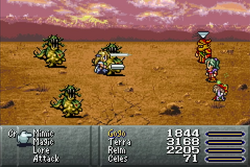 Perform a spinning slash that can be maintained by holding down the button to expend AP.

Final Fantasy Explorers description
Spinning Edge (スピニングエッジ, Supiningu Ejji?), originally called Spin Edge, is a recurring ability in the series, and is an ability used by Celes Chere, originally appearing as her Desperation Attack in Final Fantasy VI.
Appearances
Edit
Spinning Edge is Celes's Desperation Attack. It deals magical damage to one enemy with a base power of 143, and can only be used while Celes has less than 1/8th of her Max HP and uses the Attack command, with a 1/16 chance of Spinning Edge activating.
Spinning Edge is the ability that is used by Celes during battle.
Spinning Edge is an active physical ability that inflicts neutral physical damage on single target for 7 AP. Its power increases as the wielder's HP decreases. It has low topple strength. It can be used by Reynn (Celes's Champion Jewel).
Community content is available under
CC-BY-SA
unless otherwise noted.