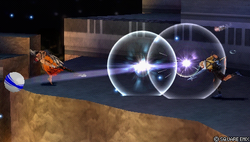 Sphere Shot (スフィアシュート, Sufia Shūto?) is a recurring ability in the series. Originally a blitzball technique, it has since been associated as an attack for Tidus.
Appearances
[
]
Sphere Shot is a blitzball technique that costs 90 HP to use, grants +3 SH while also boosting SH by a random amount depending on the player's level. If the player's level is 1-19, it adds 0-10 SH, if level 20-39 it adds 0-15 SH, and if level is 40 or more it adds 0-20 SH.
Sphere Shot is a ground Bravery physical attack for Tidus, learned at level 9. It requires 90 AP to master and 20 CP to equip (10 if mastered), has Ranged Low priority, and can induce Wall Rush.
Sphere Shot returns as a Bravery attack for Tidus, learned at level 16 but is otherwise identical to its previous incarnation.
Gallery
[
]