Sovereign Fist (ルーラーフィスト, Rūrā Fisuto?, lit. Ruler Fist) is a recurring ability in the series. It is a character exclusive ability to Snow Villiers.
Appearances
[
]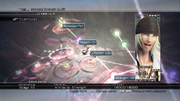 Sovereign Fist is Snow's Full ATB Skill. It is part of his Commando tree, and deals one strong hit of physical damage and is an area attack, meaning it will hit nearby enemies as well. It is shown as Snow leaping into the air, and heaving his fist down into the enemy.
Sovereign Fist is a physical attack that uses the strength stat to calculate damage. Sovereign Fist ignores physical resistance, but also ignores physical weaknesses; it will deal 100% damage whether it is resistant, normal, or weakness. Sovereign Fist can be affected by Commando bonus, Adrenaline bonus, Bravery/Bravera, and Debrave, but it is not affected by Deprotect, Protect on enemy, or enhanced element spells like Enfire.
Sovereign Fist gains a special effect when used against a staggered opponent, when it will gain a massive boost in its damage multiplier. When executed, Sovereign Fist will reset the target's chain gauge to 100%. This means it also ends an opponent's stagger status instantly, meaning it is best used once the enemy is about to recover from stagger. This property can be used for strategic advantage in the battle against the Proudclad which Retaliatory Strike can be completely avoided if the player uses Sovereign Fist as soon as it staggers.
Sovereign Fist is both a Feral Link and an enemy ability used by Snow. As an enemy ability, it results in a Game Over. As a Feral Link, it deals increased damage to staggered targets. The input for it is

/

and

/

.
Sovereign Fist is an exclusive reactive ability that costs 18 CP to equip. It is activated in Battle Music Sequences (BMS) when a boss-class enemy appears. It deals damage in direct proportion to Strength. It is learned by Snow (level 40).
Sovereign Fist is the Ultimate for Unbroken Hero job.
Sovereign Fist is Snow's Champion summon ability. It inflicts Ice-elemental magic damage to all enemies. It also grants Defense+ to all allies. It can be unlocked after completing chapter 12 and costs 1★ gauge to use. When used, "Snow's Theme" from Final Fantasy XIII plays.

Gallery
[
]