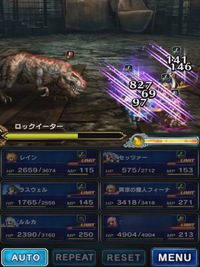 Sonic Fangs (ソニックファング, Sonikku Fangu?, lit. Sonic Fang) is a recurring enemy ability in the series.
Appearances
[
]
Sonic Fangs is an enemy ability used by Wild Saurian, Hyena, Wooly Gator, Baritine Croc, Bellwyvern, Hybrid Gator, Hellhound, Diresaur, Tyranorox, Sprinter, Antares, Archaeosaur, Feral Croc, Gorgimera, Cerberus, Tartarus, Giruveganus, Skulwyrm, Archaeoaevis, Vyraal, Enkidu, Tyrant, Hydro, Earth Tyrant, Bull Croc, Wary Wolf, Kaiser Wolf, Aeros, Skullash, and Mastiff. It inflicts non-elemental physical damage to one target with a potency of 70 and knockback of 40, and can also inflict Instant Death with a 5% chance.
Sonic Fangs is a Feral Link used by Gorgonopsid and Uridimmu. It deals physical damage to a target.
Sonic Fangs is an active physical ability that inflicts neutral physical damage on a single target for 7 AP. It has high topple strength. It can be used by Cerberus.
Gallery
[
]