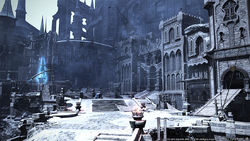 "Solid"
"Solid" (堅牢, Kenrou?) is the theme song of Ishgard from Final Fantasy XIV. It was composed by Masayoshi Soken.
"Solid" is an important theme in Final Fantasy XIV: Heavensward expansion pack. In Ishgard alone it has four different versions of the theme play during the day and night time in the Foundation and the Pillars area ("Solid" and "Night in the Brume" for the Foundation, "Nobility Obliges" and "Nobility Sleeps" for the Pillars).
It is part of the game's opening medley "Heavensward". Other arrangements include "Heroes" and "Heroes Never Die", the battle themes of King Thordan, and "Revenge of the Horde", the final battle theme of Nidhogg in the Final Steps of Faith.
Community content is available under
CC-BY-SA
unless otherwise noted.