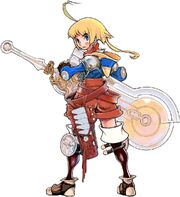 Soldier (ソルジャー, Sorujā?) is a recurring job class in the Ivalice Alliance. The Soldier class is exactly like the Fighter and Knight job classes, with abilities that focus mostly on disabling human foes.
Notable Soldiers are Marche Radiuju of Final Fantasy Tactics Advance and Luso of Final Fantasy Tactics A2: Grimoire of the Rift.
This class is not to be confused with SOLDIER, Shinra's elite army from Final Fantasy VII, although for the lone character in Final Fantasy Tactics who possesses this class, Cloud Strife, the character class is meant to be a reference to the group of supersoldiers.
Appearances
Edit
Biggs and Wedge are soldiers as their job, since they only appear in the beginning of the game and are guest characters. They both do not have any special battle commands, they only have the Attack and Items command.
Soldier is a novelty job exclusive to Cloud. Its abilities involve dealing heavy damage to a single foe, based on Cloud's Limit Breaks from Final Fantasy VII, except Cherry Blossom. It costs 6,730 JP to master.
Soldier is a job exclusive to humes. The Soldier is the basic melee unit of the humes, with great HP and Attack growth, but low Magic and Speed. Soldiers can use their Battle Techs to heal themselves, or alter the stats of their opponents. Soldiers are only useful in the beginning of the game, as they quickly become outclassed by the more advanced jobs. Marche and a fellow hume clan member start out as Soldiers.
Soldier is the default job of humes, and the main job of Luso. Soldiers use "breaks" to inflict statuses on enemies. A soldier is a basic tank with good Defense, power, and the best HP growth of any hume class.
Though combat range is limited, Soldiers have exceptionally high attack power. They cannot attack aerial targets.

Online description
Excelling in both attack power and endurance, Soldiers can deal large amounts of damage to nearby enemies. However, their attacks cannot reach aerial damage.

Online description
Non-Final Fantasy AppearancesEdit
Puzzle & DragonsEdit
The Soldier appears as part of the Crystal Defenders collaboration.
The Soldier appears on a silver card.
Etymology
Edit
[view · edit · purge]A soldier is one who fights as part of an organised, land based, sea based and air based armed force. A soldier can be an enlisted person, a non-commissioned officer, or an officer in the Army.
Community content is available under
CC-BY-SA
unless otherwise noted.