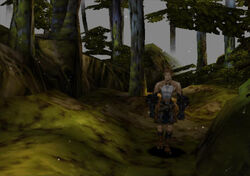 The Snowfly Forest is a forest surrounding the city of Leá Monde in Vagrant Story. It is a dense confusion forest located between the Undercity West and City Walls South. There is also a secret location called "Snowfly Forest East" that can only be reached from the City Walls East. It is inhabited by many small white floating creatures, called Snowflies. These creatures congregate where the Dark is densest. The entire area is a hazy maze with limited visibility, making it difficult for players to navigate. Pressing
on the trees will instantly orient Ashley to point south.
Storyline
[
]
Riskbreaker Ashley Riot goes into the Forest during his investigation, ignoring warnings from Rosencrantz. He is trailed by Father Grissom and his two Crimson Blades, Faendos and Lamkin. However, both of his men are lost in an earthquake. Grissom eventually finds his enemy, Sydney Losstarot, and summons a demon to fight him. Sydney, joining forces with Ashley, defeats both the Crimson Blade captain and his monster.
Sydney then uses his powers to unlock Ashley's hidden secrets about his family, Tia and Marco.
Enemies
[
]
Treasures
[
]
The Forest River
Chest:
Knuckle Grip
Circle Shield
Chain Mail
Sylphid Ring
Nightkiller Gem
Acolyte's Nostrum (x3)
Grimoire Agilite
Hewn From Nature

Chest:
Corpse Reviver
Firangi
Circle Shield
Vera Tonic (x3)
Cure Bulb (X3)
Nature's Womb

Chest:
Knight Shield
Djinn's Amber
Acolyte's Nostrum (x3)