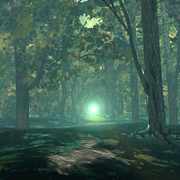 The Sleeping Forest is a forest on the northern continent in Final Fantasy VII, located directly between the Bone Village and the Forgotten Capital. If the player does not dig up the Lunar Harp before entering the Forest, the first screen repeats infinitely.
The Sleeping Forest is first seen in a dream Cloud has after he collapses at the Temple of the Ancients. Aeris talks to Cloud through the dream. Cloud decides to follow her to the Forgotten Capital and must pass through the forest to get there.
In Final Fantasy VII: Advent Children, Cloud passes through the Sleeping Forest en route to the Forgotten Capital where he is visited by Aerith's spirit in a similar manner to how she visited him in his dream in Final Fantasy VII. Shortly after Cloud is ambushed by Kadaj's group, as well as the children under his control. In the ensuing chaos, Cloud takes on Loz, Yazoo, and Kadaj and is nearly defeated before being saved at the last minute by Vincent Valentine.
Items Found
Kjata - the Materia can be seen running along the ground and must be caught before it leaves the screen
Gallery
Trivia