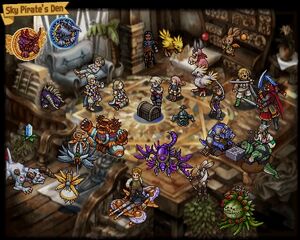 The (Sky Pirate's Den, 空賊の隠れ家?, lit. Kūzoku no Kakurega) could be considered the trophy case of Final Fantasy XII. By fulfilling certain conditions, which are unknown to the player until they actually fulfill them, sprite characters will move into the Den. These sprite characters are characters from the actual game.
Along with the sprite character, the player will be given a title and the condition for the sprite will be revealed. The player needs to complete the Sky Pirate's Den in order to reach the highest rank in Clan Centurio, The Order of Ambrosia.
The Sky Pirate's Den is almost similar to the Titles section in Vagrant Story's Score menu, in that it lists titles that a player acquires if meeting certain conditions, but does not reveal what the conditions are until they are met.
Sprites