This crazy-eyed grey squirrel wants nothing more than to eat your face and head.
Skull Eater (どくろイーター, Dokuroītā?) is a recurring enemy in the series. Debuting in Final Fantasy V, it is a more powerful version of the Nutkin, having nearly impenetrable defenses and very high attack power.
Appearances
[
]
Skull Eater is an enemy fought at Jachol Cave. It also appears at the Sealed Temple in the Game Boy Advance and later versions. It has a mere 1 HP, but incredibly high Defense, Magic Defense, and Evasion, and when hit and not killed can sometimes spawn five additional Skull Eaters. They are very dangerous as their attacks likely kill a character outright. There are various methods of dealing with this foe, and they have a slim chance of dropping the Elixir.

Skull Eater is an enemy fought at Mazewood.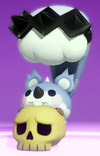 Gallery
[
]
Trivia
[
]
The behavior, stats and color choice of these monsters resemble those of Dragon Quest's Metal Slimes. The main difference being that these monsters don't give out that much experience points as they do AP or rare items as drops.