The Skeleton (スケルトン, Sukeruton?) is a recurring enemy in the Final Fantasy series, appearing since the first game. Gaunt, leering, and most often brandishing bone weapons, Skeletons are one of the most common undead enemies. They usually are rather weak enemies and appear in large groups. Recurring skeleton varieties include Bloodbones and Shadow. Final Fantasy VIII also has a similar enemy called Forbidden.
Appearances
[
]
The Skeleton, also known as Bone, is an undead enemy that appears in the Marsh Cave and the Chaos Shrine.

Skeletons are found in the Sealed Cave and are weak to the Holy element.

The Skeleton is an undead enemy capable of casting Thunder spells. Found at Mt. Hobs, they often appear in numbers.

Several variations of Skeletons exist in the game, all being weak to Fire and Holy-elemental attacks. They are fought all throughout the game in various points.
With the appearance of an undead pirate, Skeletons are encountered at the Ship Graveyard. The Skeleton is also an Oath summon, which deals minor Lightning-elemental damage to one enemy.

The undead Skeleton enemy is found in Gizamaluke's Grotto and in the Vube Desert on the Mist Continent. It has a talent with Thunder spells.

Skeletons are a genus in the Undead family.

Numerous Skeletons will often rise from the ground in the Lhusu Mines and the Barheim Passage to attack the party.

Skeletons are a new enemy type introduced in the game. They appear in the underground Temple Ruins in the Dead Dunes and are the focus of a quest to seek out and eliminate them all. Skeletons and their Ω variant use an ability called Blood Sword to heal themselves while damaging their opponents.

Skeletons are common daemons fought in the Steyliff Grove in Cleigne as well as during the Party of Three Main Quest. Additionally, tougher, higher level Skeletons can be fought in the Fociaugh Hollow maze in Duscae and the Glacial Grotto maze in Cleigne in chapter 15.
Skeletons will block the last hit in Regis's combos unless their guard is opened beforehand with a Shield Bash (

/

). Red skeletons will automatically block any Strong Slashes (

/

) and counter Quick Slashes (

/

).
Skeletons seem to have the appearance of a undead human-animal hybrid, with a human's form and beast-like horns. They are weak to Fire and Holy elements.

The Skeleton can be found early in the storyline and is not an immediate threat. Other stronger versions appear as foes later on in the game.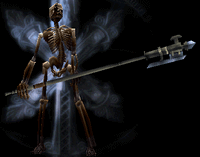 Skeletons are weak undead who are weak to Blunt affinity weapons, Light Affinity spells and attacks and the Warlock spell Exorcism. They carry minimal equipment and are easily defeated.

Several versions of Skeletons appear in this game, the first being in the Bone Dungeon, and later as Red Bones and Skuldiers. They are all weak to the Holy element and generally are not threatening, save for Skuldiers which can use Doom Reverb to instantly kill a party member.

The Skeleton is an enemy found in Cara Mountain Range, Dime Tower, Glaive Castle, Glaive's Airship, Kett, Temple of Mana, and Undersea Volcano. They have a chance of dropping Ruby. The Skeleton is a valuable monster since they drop Keys within dungeons.

The Skeleton is an enemy and also a possible monster that the party's monster unit(s) can transform into. It can be found on the first floor of the Tower.

The Skeleton is an enemy and also a possible monster that the party's monster unit(s) can transform into.

Skeleton is an enemy family. There is also an enemy that goes by that name. There are six Skeleton sprites, and five known enemies. Skull Warrior only appears in the Challenge Dungeons in the original release, while Skeleton also appears in a Challenge Dungeon but possibly also appears elsewhere. There's another sprite unaccounted for but that's probably dummied.
Skeleton from Final Fantasy IV appears as an enemy in Dissidia Final Fantasy Opera Omnia. These are usually one of, if not the most dangerous non-boss enemies currently in the game.
Skeleton from Final Fantasy V appears as an enemy in Pictlogica Final Fantasy.
Gallery
[
]
Etymology
[
]
[view · edit · purge]A skeleton is a type of physically manifested undead often found in fantasy, gothic and horror fiction, and mythical art. Most are human skeletons, but they can also be from any creature or race found on Earth or in the fantasy world.