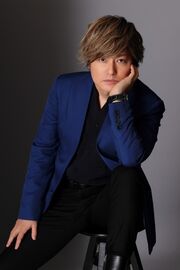 Showtaro Morikubo (森久保 祥太郎, Morikubo Shōtarō, born February 25, 1974) is a Japanese actor, voice actor and lead singer of J-rock band Mosquito Milk. In the Final Fantasy series, he is the voice of Kadaj in Final Fantasy VII: Advent Children and its remastered release Final Fantasy VII: Advent Children Complete, and the voice of Naghi Minatsuchi in Final Fantasy Type-0.
Roles
[
]
Related Square Enix projects
[
]
Background
[
]
He is best known for his role as the sardonic and tactical Shikamaru Nara of the ninja fantasy action shounen series Naruto, Yosuke Hanamura of occult mythology RPG series installment Shin Megami Tensei: Persona 4, Orphen of Sorcerous Stabber Orphen, Jet Link of the sci-fi anime adaptation of Cyborg 009, and his contributions, from voice acting to music work, to the Capcom 2D action platformer series Mega Man X, where he voiced the title character starting from Mega Man X5 up to Mega Man X7.
External links
[
]