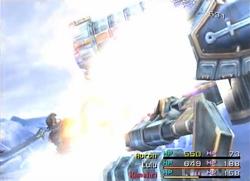 Shooting Star (流星, Ryūsei?, lit. Falling Star) is a recurring ability in the series. It is a Limit Break associated with Auron.
Appearances
Shooting Star is the second Overdrive for Auron, which inflicts heavy damage to one target. If the button sequence input of







(







in the International Version) is input correctly, the move will inflict Eject on the enemy if it can be ejected. Shooting Star is learned after defeating the Spherimorph. It is a Rank 5 ability.
Shooting Star is an enemy ability used by Auron in the Fiend Arena, which inflicts Eject to one party member.
Shooting Star is one of Auron's unique Soul Breaks available via Shiranui (X). At the expense of one Soul Gauge segment it deals three successive physical attacks to one target with a moderate chance to Paralyze it.
Non-Final Fantasy guest appearances
Shooting Star is part of Auron's Overdrive Limit ability in Kingdom Hearts II. Auron and Sora spin around to attack enemies. It alternates with Banishing Blade.
Gallery
Etymology
[view · edit · purge]Shooting star is a common name for the visible path of a meteoroid as it enters the atmosphere to become a meteor. There exists a widespread superstition that a wish made on a shooting star will come true.
Trivia
Community content is available under
CC-BY-SA
unless otherwise noted.