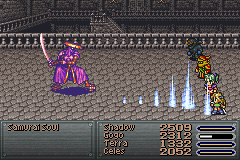 Release spiritual energy mighty enough to rend the earth.

Final Fantasy Tactics description
Shockwave (衝撃波, Shōgekiha?), also known as Shock Wave or Blast Wave, is a recurring enemy ability that deals non-elemental damage, and either to one party member or the entire party, and is usually used by bosses.
Appearances
Edit
Shockwave is an enemy ability used first by Dadaluma, and then later in the Advance remake by Kaiser Dragon. It deals minor non-elemental damage to one character. It has a Spell Power of 25 with a Hit Rate of 120, and it cost 20 MP for the enemy to use.
Grand Shockwave, which is used by both Weiss Empowered and Azul, and Ground Shockwave, which is used by Rosso, are enemy abilities that deals non-elemental damage which will only connect if Vincent is still on the ground.
Shockwave, used by Soulcage, Nova Dragon, and Silver Dragon, deals major non-elemental damage to the party, while Blue Shockwave is an ability used by Necron, cutting a single character's HP down to one.
Shockwave is an enemy ability used by One-Eye, which deals major non-elemental damage to all characters as well as inflicting Blind, Sleep, Slow, Poison, Confuse, and Silence.
Shockwave is a Machinations ability usable by Rikku's special dressphere, Machina Maw. It takes 20 AP to master and 36 MP to cast, and deals major, non-elemental physical damage to the enemy's party.
Shockwave is a Great Sword Weapon Skill. It is a single-hit area of effect attack and inflicts Sleep. It provides a TP enhancement to Sleep duration. It requires a combat skill of 150. It can skillchain into Reverberation.
Shock Wave is also an enemy ability that deals damage in a frontal area of effect, with an a additional Knockback effect. It is used by the Behemoth family.
Shock Wave deals physical damage and may cause Knockback. It is used by Headless, Killer Mantis, Antares, Imp, Preying Mantis, Gargoyle Baron, Scythe Mantis, Buer, and Arioch.
Blast Wave is an enemy ability exclusive to Caius Ballad. It manifests as a straight line of purple energy dealing large magical damage, has wounding effects applied to it, and can launch any target that may come in contact with it.
Blast Wave damages units in a row extending from the caster. It is learned by the Ravager from the Zweihander for 350 AP.
The damage formula for Blast Wave is as follows:
$ 0.5 x Physical Attack x (Physical Attack + PWR) $
The success rate for Blast Wave is as follows:
$ Physical Attack + PWR $
Shock Wave is a command for the Bahamut-Class Eidolons Bahamut and Neo Bahamut.
Etymology
Edit
[view · edit · purge]In physics, a shock wave (also spelled shockwave), or shock, is a type of propagating disturbance. When a wave moves faster than the local speed of sound in a fluid it is a shock wave. Like an ordinary wave, a shock wave carries energy, and can propagate through a medium; however it is characterized by an abrupt, nearly discontinuous change in pressure, temperature and density of the medium.
Community content is available under
CC-BY-SA
unless otherwise noted.