Inflict damage commensurate with the damage received.
Shock (ショック, Shokku?), also known as Vengeance, is a recurring ability or spell from the series. When used as an ability, it is associated with the Warrior class, but as a spell is generally a high-ranking Black Magic spell.
Appearances
[
]
Shock is the special command ability of General Leo. Gau also has a chance of using it from Yojimbo Rage. Shock deals large amounts of non-elemental magic damage to all enemies, and it also removes the Invisible status if the target had it. Its Spell Power is 128, and it cannot be dodged. Within the game's data, Yojimbo's Shock ability is called Megahit (SNES) and Megashock (Game Boy Advance).
Shock isn't disabled if Leo has been transformed into an Imp. Normally, imp characters cannot use their special abilities, but Leo is a temporary playable character not meant to be playable outside of the battle against Kefka in Thamasa who doesn't inflict the imp status and there's no way to inflict Leo with imp prior to the battle.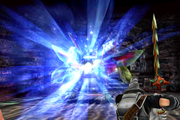 Shock first appears as one of General Beatrix's abilities in her Seiken skillset. Steiner can learn it as a Sword Art from the Ragnarok. It deals large amounts of physical damage, roughly triple the damage Steiner's normal attack does, usually hitting the damage cap of 9999. It costs 46 MP to use, and is learned for 60 AP. Shock takes on the elemental properties of the equipped weapon (but gains no further boost from Elem-Atk boosting equipment).
Shock is a lightning-elemental Black Magic spell that deals damage over time that lowers an enemy's mind. It is one of the several elemental damage over time spells available to Black Mages.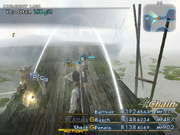 Shock is a Black Magick spell that inflicts heavy non-elemental damage on a single target.
In the original version it is available on Black Magick license 6 costing 50 LP. The spell can be purchased at Balfonheim Port after the events at Pharos for 9,400 gil and initially uses 34 MP to cast.
The Zodiac versions Shock as a Black Magick 11 License. It is bought in Balfonheim for 7,800 gil and consumes 34 MP. Only the Black Mage job class can use Shock.
Shock is also used as an enemy ability by Fafnir, Shadowseer, and Shemhazai.
Shock was an ability in the original version as a spell learned by Conjurers at rank 12 and cost 3 action points to set. It inflicted lightning-elemental damage over time and reduced lightning magic defense to all enemies within an area of effect.
An upgraded version called Shock II also appeared as an ability. The spell could be learned by Conjurers at rank 36. The ability inflicted lightning-elemental damage over time at a higher potency and also reduced the lightning magic defense to all enemies within an area of effect.
After the release of patch 1.20, Shock and Shock II became unusable by any class.
Vengeance (Shock! on the PlayStation) is used by Beowulf and acts just like the Lifebreak ability, dealing damage equal to the difference in Beowulf's Max HP and current HP. Beowulf learns his at the cost of 600 JP, having a range of 8 and costs 20 MP to use.
Deals magic damage to all enemies.

Description
Two versions of Shock are usable command abilities:
Leo can use his signature move as his EX Ability.
Beatrix's LD Ability is based on the Final Fantasy IX skill. When active, it marks targets for a follow-up attack that is Lightning-elemental and removes the target's buffs for each of 4 turns.
Expel a wave that harms foes. Hold down the button to charge the attack and increase damage.

Description
One of General Leo's cards, depicting his Amano artwork, can use Shock. For a payment of 4 Light CP and the discard of another General Leo card, Shock deals 5,000 damage to all the opponent's Forwards.
Gallery
[
]
Etymology
[
]
[view · edit · purge]Shock refers to a dangerous condition that disrupts the blood flow of the body. Electric shock is the physiological reaction or injury caused by electric current passing through the (human) body.