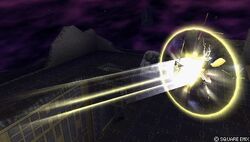 Shield of Light (シールドオブライト, Shīrudo obu Raito?) is a recurring ability in Final Fantasy series. It is used exclusively by Warrior of Light. Warrior of Light conjures a spectral shield in front of him from which a large beam of light fires.
Appearances
Shield of Light appears in ground and midair variants as an initial HP attack for Warrior of Light, both variants with identical properties. They take 40 CP to equip, 20 when mastered, require 180 AP to be mastered, their priorities are Melee High and Block Mid, have Block and Wall Rush as their effects, and generate 100 EX Force.
Shield of Light is an HP attack for Warrior of Light with two variants; the ground variant learned at level 22 and the midair variant known by default. They now take 30 CP to equip, 15 when mastered, require 130 AP to be mastered, and generate no EX Force. Other traits haven't changed.
Shield of Light is a ground Bravery attack.
Shield of Light is a Premium Skill exclusive to Warrior of Light.
Pictlogica Final Fantasy ≒
Gallery
Community content is available under
CC-BY-SA
unless otherwise noted.