Serah appeared as a recruitable character. She is of the Visitor race and has Time traveler as her main job. Her attack is Faerie's Bow and her ability is Ultima Arrow.
Serah is a playable character.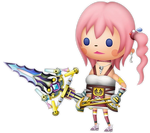 She is three years younger than Lightning and is Snow's fiancée. Quite opposite to her elder sister, Serah exudes an air that makes others want to protect her—but her heart is as firm and true as Lightning's is. Still, her curiosity leads her to disaster as she is first branded as a Pulse l'Cie and then imprisoned by the fal'Cie.

Online description
Serah appears in the iOS version as a purchasable character. She is the sole character representing Final Fantasy XIII-2, and appears in her main attire.
Though everyone else believes Lightning to be dead, Serah alone remembers the smile her sister gave her that day three years ago when Cocoon was saved. So she sets off across time and space with Noel to find her sister.

CollectaCard
Serah is a playable character, and is the main representative of Final Fantasy XIII-2. She is available from the start by transferring save data from the second demo. If the player did not select her among their party of four, or download the demo, she can later be unlocked by collecting Indigo Crystal Shards.
This section about a character in Theatrhythm Final Fantasy All-Star Carnival is empty or needs to be expanded. You can help the Final Fantasy Wiki by expanding it.
Serah appears as a playable character. Her initial weapon is the Starseeker.
Serah was 18 in FFXIII, and 21 in FFXIII-2, kupo.

Mog
Serah appears as a summonable Legend depicted in her default Final Fantasy XIII-2 outfit. Her abilities are Thundaga, Wound, Woundga, and Ultima Arrow. She is first introduced in the event, "Final Fantasy XIII-2 Incursion from Valhalla", in which her abilities and weapons are made usable to successfully combat Atlas and Chaos Bahamut.
Portraits
Ability Cards
Legend Cards
This section in Final Fantasy Artniks is empty or needs to be expanded. You can help the Final Fantasy Wiki by expanding it.
Serah is a playable character who could be initially recruited the Challenge Event Dangerous Beauty as the First Time Reward for completing the event's Mah'habara stage in Part 1.

This section about a character in Final Fantasy Brave Exvius is empty or needs to be expanded. You can help the Final Fantasy Wiki by expanding it.
Serah appears as life-element ability cards.
This section in Mobius Final Fantasy is empty or needs to be expanded. You can help the Final Fantasy Wiki by expanding it.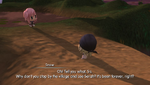 Serah is mentioned as living in the same village as Snow following his brief exchange with Lightning. She is one of the new characters announced for the expansion World of Final Fantasy Maxima, which was hinted in the Who's Who entry for Snow.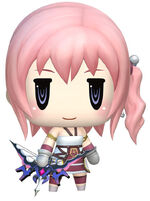 Who's Who

Serah

CV: Laura Bailey / Minako Kotabuki
Age in Grymoire: 18
Notes: Snow's BAE / Icycle's BFF / Lightning's sister / Never agreed to a date
An Extraordinary Soul

During Reynn and Lann's adventures, Serah was only a name uttered by her beloved Snow, but she would later become somewhat involved in the tales of Zack and Hauyn. Even more so than the other Mediums, Serah's original soul had been charged with an extraordinary destiny, which would suggest that a quiet life is not in the cards for her. But Serah's kindness and positive outlook will surely find light in the darkness, no matter what the future holds for Grymoire.
First World of Origin:

FINAL FANTASY XIII
Serah appears in Final Fantasy Trading Card Game as Ice-elemental Backup and Forward cards, depicted in her Final Fantasy XIII official render, her Final Fantasy XIII-2 attire, her DLC White Mage and Summoner outfits and her Theatrhythm Final Fantasy artwork.
Serah appears on Triple Triad cards in the version available via Final Fantasy Portal App.
Non-Final Fantasy guest appearances

[

edit

|

edit source

]
Serah does not make an actual appearance in the Kingdom Hearts series, but she is available for the Avatars in Kingdom Hearts Re:coded.
Serah is also a collectible Kingdom Hearts mascot cellphone strap appearing alongside the other characters of Final Fantasy XIII.
Community content is available under
CC-BY-SA
unless otherwise noted.