Sephiroth appears as an AI-controlled party member in Final Fantasy VII during the flashback sequence of the Nibelheim Incident. He wields the Masamune and his equipment and Materia cannot be changed. He is programmed to be invincible.
Battle
[
]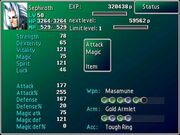 Sephiroth is an AI-controlled temporary party member in Cloud Strife's flashback. He cannot take damage, acts of his own accord, and his equipment cannot be removed. He has no Limit Break and his Limit meter will not charge since he cannot take damage—if hacks are used to increase the meter, he does not have a Limit command.
His Materia are mastered; Revive, Restore, Earth paired with All, Fire, Ice paired with All, Lightning paired with All. His weapon has perfect accuracy and his attacks always critical. His equipment and Materia are as follows:
Sephiroth doesn't use the Restore and Fire spells in battle, and if there is at least one Sonic Speed ​​in the enemy team, he will not use Quake3. If Cloud falls, Sephiroth will sometimes revive him with Life2. Sephiroth will win every battle in the flashback regardless of Cloud's status. Twin Brain's Stare Down always misses against him. His victory pose is to swing the Masamune in front of him twice, flip it over in his hand, and slide it curve-up against his waist so the hilt rests at his side and the blade faces up at an angle behind him.
Stats
[
]
Although the player cannot level Sephiroth in a normal game, he still has stats and stat growth. The below stats listed at LV50 are his stats in-game. He starts with 320438 Exp, which on his curve would put him at LV51, but if he were to be used normally this would correct itself.
He shares his Exp growth with Cloud, and his other stat growth with Vincent. Because he only appears in the flashback and his stats start out much higher than average, there is no need for normal stat growth and many of his stats would remain the same were he to level up.
LV
Exp
HP
MP
Strength
Dexterity
Vitality
Magic
Spirit
Luck
+
50
299125
3840
460
85
65
72
68
70
46
51
317625
3884 - 3884
462 - 465
85 - 85
65 - 65
72 - 72
68 - 70
70 - 72
46 - 46
52
336872
3933 - 3933
464 - 472
85 - 85
65 - 65
72 - 72
68 - 72
70 - 73
46 - 46
53
356881
3982 - 3982
466 - 480
85 - 85
65 - 65
72 - 72
68 - 73
70 - 74
46 - 46
54
377667
4031 - 4043
469 - 488
85 - 85
65 - 65
72 - 72
68 - 74
70 - 75
46 - 46
55
399245
4080 - 4116
474 - 497
85 - 85
65 - 65
72 - 72
69 - 75
70 - 76
46 - 46
56
421630
4129 - 4202
481 - 506
85 - 85
65 - 65
72 - 72
70 - 76
71 - 77
46 - 46
57
444836
4178 - 4300
489 - 516
85 - 85
65 - 65
72 - 72
70 - 77
72 - 78
46 - 46
58
468878
4239 - 4398
497 - 527
85 - 85
65 - 65
72 - 72
71 - 78
72 - 79
46 - 46
59
493771
4312 - 4508
506 - 537
85 - 85
65 - 65
72 - 72
72 - 79
73 - 80
46 - 46
60
519530
4398 - 4618
515 - 548
85 - 85
65 - 65
72 - 72
73 - 80
74 - 81
46 - 46
61
546170
4496 - 4741
524 - 558
85 - 85
65 - 65
72 - 72
73 - 80
74 - 81
46 - 46
62
581467
4592 - 4849
540 - 574
85 - 85
65 - 65
72 - 72
74 - 81
75 - 82
46 - 46
63
610297
4688 - 4957
556 - 590
85 - 85
65 - 65
72 - 72
75 - 82
76 - 83
46 - 46
64
640064
4784 - 5077
570 - 604
85 - 85
65 - 65
72 - 72
76 - 83
77 - 84
46 - 46
65
670784
4892 - 5197
586 - 620
85 - 85
65 - 65
72 - 72
76 - 83
77 - 84
46 - 46
66
702471
5000 - 5317
602 - 636
85 - 85
65 - 65
72 - 72
77 - 84
78 - 85
46 - 46
67
735141
5108 - 5437
616 - 650
85 - 85
65 - 65
72 - 72
77 - 84
78 - 85
46 - 46
68
768808
5216 - 5557
632 - 666
85 - 85
65 - 65
72 - 72
77 - 84
79 - 86
46 - 46
69
803488
5324 - 5677
648 - 682
85 - 85
65 - 65
72 - 72
78 - 85
80 - 87
46 - 46
70
839195
5432 - 5797
662 - 698
85 - 85
65 - 65
72 - 72
78 - 85
80 - 87
46 - 46
71
875945
5552 - 5917
672 - 710
85 - 85
65 - 65
72 - 72
79 - 86
81 - 88
46 - 46
72
913752
5660 - 6037
684 - 724
85 - 85
65 - 65
72 - 72
79 - 86
81 - 88
46 - 46
73
952632
5780 - 6157
695 - 736
85 - 85
65 - 65
72 - 72
80 - 87
82 - 89
46 - 46
74
992599
5888 - 6277
704 - 746
85 - 85
65 - 65
72 - 73
80 - 87
83 - 90
46 - 46
75
1033669
5996 - 6397
715 - 758
85 - 85
65 - 65
72 - 73
81 - 88
83 - 90
46 - 46
76
1075856
6116 - 6517
725 - 769
85 - 85
65 - 65
72 - 74
81 - 88
84 - 91
46 - 46
77
1119176
6224 - 6637
734 - 778
85 - 85
65 - 65
72 - 74
81 - 88
84 - 91
46 - 46
78
1163643
6344 - 6757
744 - 789
85 - 85
65 - 65
72 - 75
82 - 89
85 - 92
46 - 46
79
1209273
6452 - 6877
754 - 800
85 - 85
65 - 65
72 - 75
82 - 89
86 - 93
46 - 46
80
1256080
6572 - 6997
764 - 811
85 - 85
65 - 65
72 - 76
83 - 90
86 - 93
46 - 46
81
1304080
6680 - 7117
773 - 820
85 - 85
65 - 65
72 - 76
83 - 90
87 - 94
46 - 46
82
1389359
6762 - 7209
774 - 821
85 - 85
65 - 65
72 - 77
84 - 91
87 - 94
46 - 46
83
1441133
6844 - 7301
775 - 822
85 - 85
65 - 65
72 - 77
84 - 91
88 - 95
46 - 46
84
1494178
6926 - 7393
776 - 824
85 - 85
65 - 65
72 - 78
85 - 92
88 - 95
46 - 46
85
1548509
7008 - 7485
778 - 826
85 - 85
65 - 65
72 - 78
85 - 92
88 - 95
46 - 46
86
1604141
7090 - 7577
780 - 830
85 - 85
65 - 65
72 - 78
85 - 92
89 - 96
46 - 46
87
1661090
7172 - 7669
784 - 834
85 - 85
65 - 65
72 - 78
85 - 92
89 - 96
46 - 46
88
1719371
7264 - 7761
788 - 840
85 - 85
65 - 65
72 - 79
86 - 93
89 - 96
46 - 46
89
1778999
7346 - 7853
793 - 845
85 - 85
65 - 65
72 - 79
86 - 93
90 - 97
46 - 46
90
1839990
7438 - 7945
799 - 852
85 - 85
65 - 65
72 - 79
86 - 93
90 - 97
46 - 46
91
1902360
7520 - 8037
804 - 858
85 - 85
65 - 65
72 - 79
87 - 94
90 - 97
46 - 46
92
1966123
7612 - 8129
810 - 864
85 - 85
65 - 65
73 - 80
87 - 94
91 - 98
46 - 46
93
2031295
7694 - 8221
817 - 871
85 - 85
65 - 65
73 - 80
87 - 94
91 - 98
46 - 46
94
2097892
7786 - 8313
823 - 878
85 - 85
65 - 65
73 - 80
88 - 95
91 - 98
46 - 46
95
2165929
7868 - 8405
830 - 886
85 - 85
65 - 65
73 - 80
88 - 95
92 - 99
46 - 46
96
2235421
7950 - 8497
837 - 893
85 - 85
65 - 65
74 - 81
88 - 95
92 - 99
46 - 46
97
2306384
8042 - 8589
844 - 900
85 - 85
65 - 65
74 - 81
89 - 96
92 - 99
46 - 46
98
2378833
8124 - 8681
852 - 908
85 - 85
65 - 65
74 - 81
89 - 96
93 - 100
46 - 46
99
2452783
8216 - 8773
859 - 915
85 - 85
65 - 65
74 - 81
89 - 96
93 - 100
46 - 46