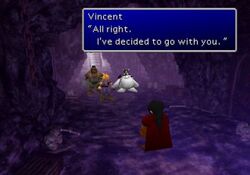 Secret characters, also known as optional characters or hidden characters, are playable characters that do not join the party during the main storyline. They are hidden as rewards for completing sidequests. If their existence is even mentioned, it is often only vaguely hinted at.
Twelve non-guest characters are guaranteed to join the party in the World of Balance, coming and going as the plot demands. However, in the World of Ruin, only Celes, Setzer and Edgar are required to be found to complete the game—all other characters are optional.
Umaro can be seen briefly during the World of Balance, but he can only be recruited in the World of Ruin when Mog is in the party, when apprehended in Yeti's Cave.
Gogo can be recruited in the World of Ruin, in Zone Eater's Belly.
By completing certain sidequests the following characters can join the main team:
Though s/he must join the party for the party's trek to the Outer Continent, Quina can be recruited earlier. If the party ventures to Qu's Marsh after leaving Lindblum on foot, s/he can join until the end of Cleyra.
The following Paradigm Pack monsters cannot be recruited by turning them into a crystal in battle, but instead require the player to search for them using the Moogle Hunt ability, or through completing an optional location. These monsters are unique and only one can be obtained, but can be reacquired as a drop from various versions of Valfodr, a DLC boss.
Community content is available under
CC-BY-SA
unless otherwise noted.