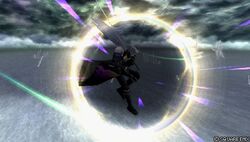 Petrify the cursed beings known as the undead.

Final Fantasy Tactics description
Seal Evil (邪心封印, Jashin Fūin?) is a recurring ability in the series. It often inflicts status effects on all enemies, generally Paralysis, and is generally associated with Aerith Gainsborough and Mustadio Bunansa.
Appearances
Edit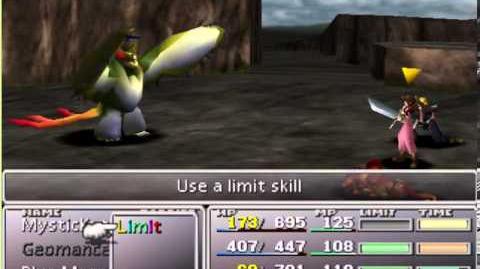 Seal Evil is the second Limit Break for Aeris, gained after using Healing Wind eight times. It inflicts Stop and Silence on all enemies.

Seal Evil is an ability of the Machinist job, exclusive to Mustadio and Barich. It requires 200 JP to learn, and inflicts Stone on any Undead enemy. Its range varies depending on the weapon Mustadio and Barich has equipped at the time.
In The War of the Lions version, all Machinist abilities, including Seal Evil, are included on the Sky Pirate job, exclusive to Balthier.
Behave!

When using Seal Evil.
Seal Evil is an aerial Bravery attack used by Aerith, which paralyzes the opponent for three seconds or until they are attacked by the opponent.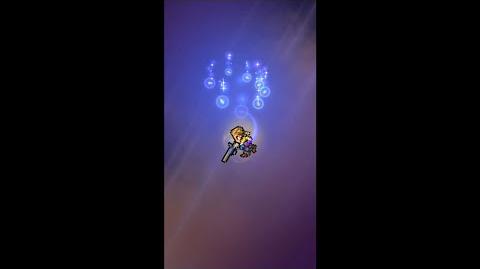 Non-Final Fantasy appearancesEdit
Seal Evil is Mustadio and Virtuous Mustadio's ability. It reduces 1 ATK of Target Enemy Unit and Immobilize them for 1 turn.
Etymology
Edit
Seal evil is another name for exorcism. An exorcism is the religious or spiritual practice of purportedly evicting demons or other spiritual entities from a person or an area they are believed to have possessed. Depending on the spiritual beliefs of the exorcist, this may be done by causing the entity to swear an oath, performing an elaborate ritual, or simply by commanding it to depart in the name of a higher power. The practice is ancient and part of the belief system of many cultures and religions.
Community content is available under
CC-BY-SA
unless otherwise noted.