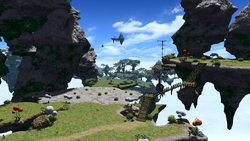 The Sea of Clouds is a location in Final Fantasy XIV: Heavensward, and quite possibly the largest zone in Final Fantasy XIV.
Locations
Edit
The Sea of Clouds is a collection of floating landmasses located above Abalathia's Spine. As such, it can only be accessed via airship.
Aetherytes
Edit
There are two aetherytes in this zone: Camp Cloudtop in the southwest and Ok'Zundu in the northwest.
The Sea of Clouds contains the following areas:
Cloudtop -
Voor Sian Siran -
Wisent Herd -
The Blue Window -
Ok' Vundu Vana -
The Gauntlet -
Settlements
Edit
Camp Cloudtop
Edit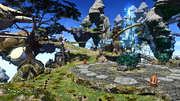 An outpost constructed by House Haillentaire. As this area is located opposite of Dravania, many knights stationed here view it as a boring post. It is managed by Lady Laniaitte de Haillenarte.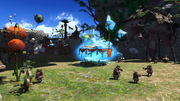 A village inhabited by a peaceful tribe of Vanu Vanu, led by Chief Sonu Vanu.

This aerial zone may exhibit any of the following weather conditions:
Clear Skies
Sunshine
Wind
Umbral Wind
Places of Interest
Edit
Voor Sian Siran
Edit
These floating lakes are one of the few permanent bodies of water on these floating islands.

Neverreap
Edit
The Eddies
Edit
Temple Leves
Edit
Musical themes
Edit
The Void Ark can be periodically seen flying to the north in the zone.

This section about a location in Final Fantasy XIV is empty or needs to be expanded. You can help the Final Fantasy Wiki by expanding it.
Community content is available under
CC-BY-SA
unless otherwise noted.