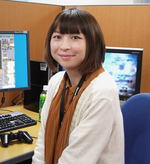 Sara Okabe (岡部沙羅, Okabe Sārā?) is a Japanese video game developer and scenario writer who is working for Square Enix. She was one of the scenario writers of Final Fantasy Type-0 (2011) and the level designer of Final Fantasy XIII-2 (2012).
Works within the series
[
]
In-game appearances
[
]
Okabe appears as a Support Personnel, sharing the same model and fighting abilities as Queen.