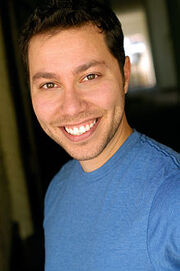 Samuel Riegel (born October 9, 1976), also known as Sam Regal or Jack Lingo, is an American voice actor, writer and director who appears in cartoons, anime and video game series. He voiced Edward Chris von Muir in the 3D remake of Final Fantasy IV and Alphinaud Leveilleur in Final Fantasy XIV: A Realm Reborn.
Roles
[
]
Background
[
]
He is best known for voicing Donatello in Teenage Mutant Ninja Turtles (2003 series), Phoenix Wright in Ace Attorney games, Viral in Gurren Lagann, Flynn Scifo in Tales of Vesperia, Jude Mathis from Tales of Xillia, and Silabus in .Hack//GU games.
Trivia
[
]
He is the elder brother of the voice actress Eden Riegel.