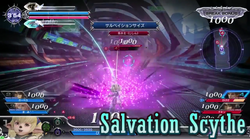 Salvation Scythe (サルベイションサイズ, Sarubeishon Saizu?) is a recurring ability in the series. It is used exclusively by Shantotto.
Appearances
[
]
Gallery
[
]
Etymology
[
]
[view · edit · purge]Salvation is being saved or protected from harm or being saved or delivered from some dire situation. In religion, salvation is stated as the saving of the soul from sin and its consequences.
[view · edit · purge]A scythe is an agricultural hand tool for mowing grass or reaping crops largely replaced by horse-drawn and then tractor machinery, but is still used in some areas of Europe and Asia. A war scythe is a regular scythe adapted for combat use by straightening their tangs to re-attach the blade parallel to the snath, rather than perpendicular to it, so that it looks like a bill. The Grim Reaper and the Greek Titan Cronus are often depicted carrying or wielding a scythe. Often people confuse scythes and sickles. They are not the same. A scythe has a slowly arcing blade and can be full size or in smaller handheld versions such as seen in Japanese Kama. A sickle has a C shaped blade with the end of the blade pointing straight up from the C curve in line with the handle. The most common example of a sickle is on the Russian Flag.