Line 37:
Line 37:
 

| 1 sensor = Immune

 

| 1 sensor = Immune

 

| 1 scan = Immune

 

| 1 scan = Immune

−

| 1 equip drop rate = N/A

+

| 1 drop rate = N/A

 

| 1 equip slot min = N/A

 

| 1 equip slot min = N/A

 

| 1 equip slot max = N/A

 

| 1 equip slot max = N/A
---
Revision as of 21:45, 24 October 2014
Template:FFX Enemy Sahagin is an enemy in Final Fantasy X. Its stats change throughout the game.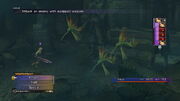 There are only three Sahagins in this fight, and Tidus fights them alone. However, defeating two will cause the battle to end, as the other is bitten by Geosgaeno.

There are two versions of Sahagin in Via Purifico: a land version, which Yuna's party may encounter, and an underwater version, which Tidus's party may encounter.

Related Enemies
Community content is available under
CC-BY-SA
unless otherwise noted.